Our Cowgirls Are Ready & Waiting For Their Hunky Cowboys
Howdy partners! Can you believe that this weekend is the 11th anniversary of Kims Tavern: The best bar in Ho Chi Minh City for a night of fun and frolics with beautiful Vietnamese bar girls!
As far as events go, this is not our 'first rodeo', and we have one heck of an epic weekend of redneck, hillbilly cowpunching shenanigans planned for you lucky mustangs!!
Gunslingers Needed To Capture Calamity Nguyen
Calling all Billy The Kids, Sundance Kids or men with no names to help. Our Sheriff has been run out of the tavern by Calamity Nguyen! There is a big bounty on her head for those men brave enough!
Wanted Drunk or Sobre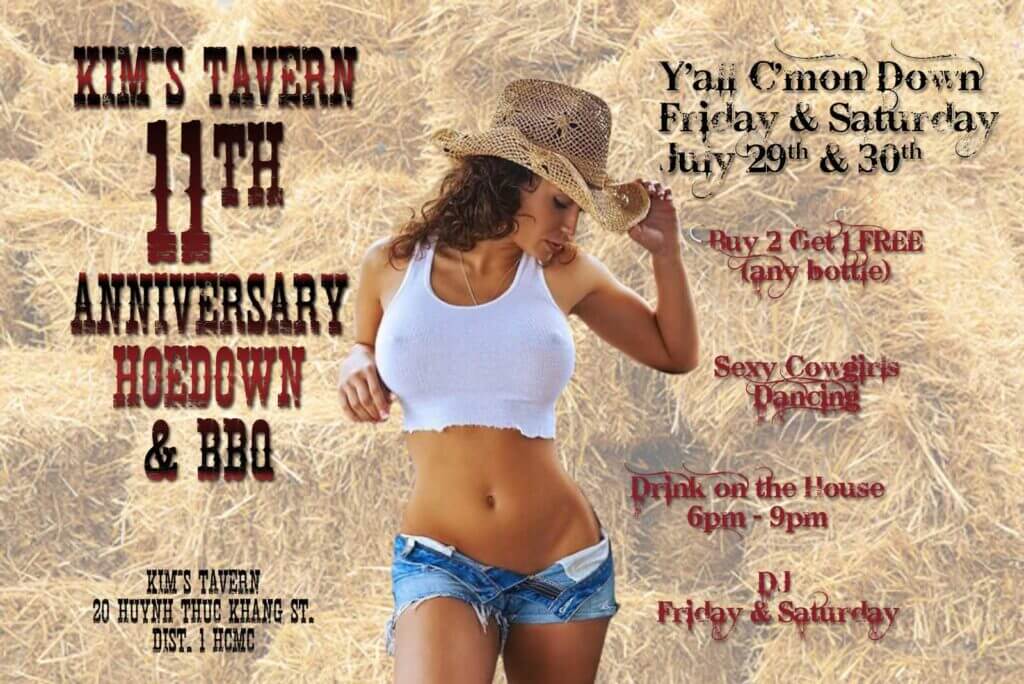 This is the last known photo of Calamity Nguyen
Bounty & Spoils All Night For The Victors
There are plenty of riches to be had for our hired gunslinging cowboys:
Free Drinks On The Tavern between 6pm & 9pm to give you the courage to duel Calamity Nguyen
Buy 2 Bottle & Get 1 Free All night long
Treat Your Wounds With The Love & Tenderness Of Our Sexy Cowgirls
Enjoy Your Favourite Cowgirl Line Dancing On The Bar
Fill Your Boots & Stomach with some Delicious Free BBQ (Ranch sauce not provided)
Dance the night away with the favourite wild west tunes from our resident DJ
We Have Called In Reinforces Just In Case Things Get Out Of Hand!
Those who have experienced one of Kim's Taverns Anniversary Birthday Bashes will know how just busy and barn door crazy it will get. We fill up super quickly. This year we partnered with our most famous outlaw Jesse 'Bar 22' James, next door to Kims Tavern, So we have twice the space and, most importantly, twice the amount of sexy Cowgirls ready to give you a pleasing hoe-down!
29th & 30th July From 7 pm!!