So you have just landed in Ho Chi Minh and eagerly want to find the best bars in Saigon? So you whip out your phone and search for the best bar near me (or even speak the words "bar near me" nowadays); perfect job done…right? Well, not exactly; if you are not careful, you might find yourself walking into a bar that could quite easily be a backup set for the 1970s movie apocalypse now!
But don't worry, we have you covered; by the end of this article, you'll know about the best bars in Saigon located in District 1, Ho Chi Minh City. I'll also list the bars by type so that you, our awesome readers, can easily find what you are looking for. And to make things even easier, I've included directions on how to get to each bar! So read on and enjoy planning your time in Ho Chi Minh City!
Firstly, Where is District 1 in Ho Chi Minh City To Find The Best Bars?
District 1 (D1) is the central business district of Ho Chi Minh, which neighbors district 2,3,4, Phu Nhuan & Binh Thanh. D1 is the most popular area for tourists. This trendy district is packed with fascinating architecture and a lively nightlife scene with many bars and restaurants within this district, so finding one that suits your taste shouldn't be a problem.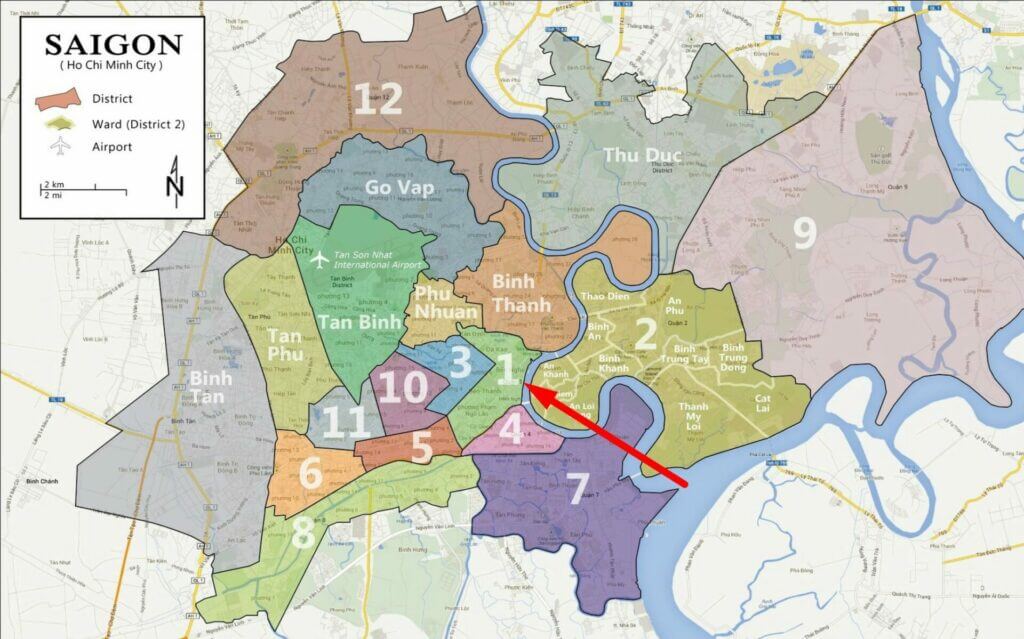 What types of bars are in District 1 Saigon?
There's no need to go anywhere else, as District 1 Ho Chi Minh City bars have you covered. From sports bars to lounges and rooftops to girly bars, you're sure to find the perfect hangout for you. There are a variety of bars with different styles and themes to find the perfect one for your entertainment needs.
Best Bars Saigon: Girl Bars
To most nationals from western countries, girly bars or girl bars, hostess clubs, etc., are quite a phenomenon. You could say they are somewhere between a Hooters-style bar and a strip club. They are packed with beautiful Vietnamese girls who spend time drinking with you at your table in sexy and revealing clothing, sexy dancing, and more, but they do not go as far as stripping.
A girly bar is perfect for lots of different types of nights. You could be looking for a laid-back place to have a few drinks with your friends or are in the mood for some lively nightlife or for solo drinkers who would just like to enjoy a beer alone.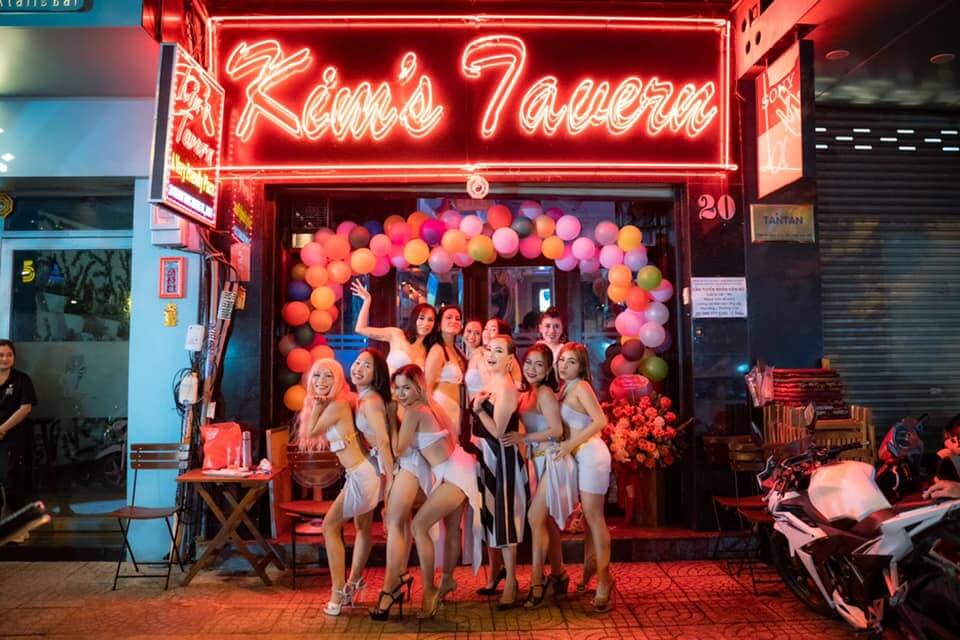 Kims Tavern is the best bar in Ho Chi Minh City for the girl bar experience. They are one of the longest-serving girl bars in Ho Chi Minh and have been open for over ten years. You will find the girls here are very friendly, have excellent service, and have accurate bills (something you must be careful about when visiting girl bars). If you are a tourist and have decided to go to a girl bar for the first time, then Kim Tavern is the place I would recommend for a newbie, as you will be guaranteed a safe, pleasant & fun experience!
Directions: Best bar near me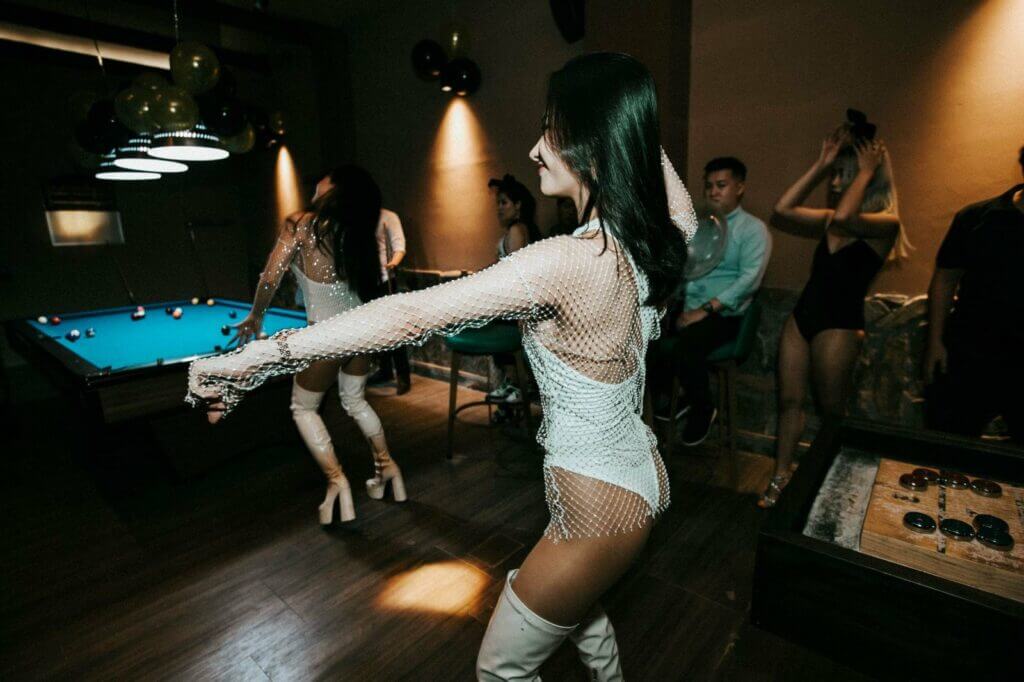 Bar 22 is another girl bar that could be easily considered the best girly bar in Ho Chi Minh City for girls. Bar 22 is very similar to Kim's Tavern in that the girls are super friendly, and the bill is always present at your table, so you can see everything that has been ordered with excellent management. Something that does separate the two is that Bar 22 has more of a sports theme vibe with a Pool table and darts that you can play with your friends or with one of the sexy bar girls.
Directions: Best girl bar near me
Best Bars Saigon: Cocktail Bars
Would you like to find a cocktail bar in the heart of Ho Chi Minh City? If so, you're in luck! District 1 is a famous nightlife district, and a variety of cocktail bars will suit any taste. Whether you're looking for a quiet evening out or some lively socializing, a cocktail bar is a perfect place to be.
Best Cocktail Bar: Layla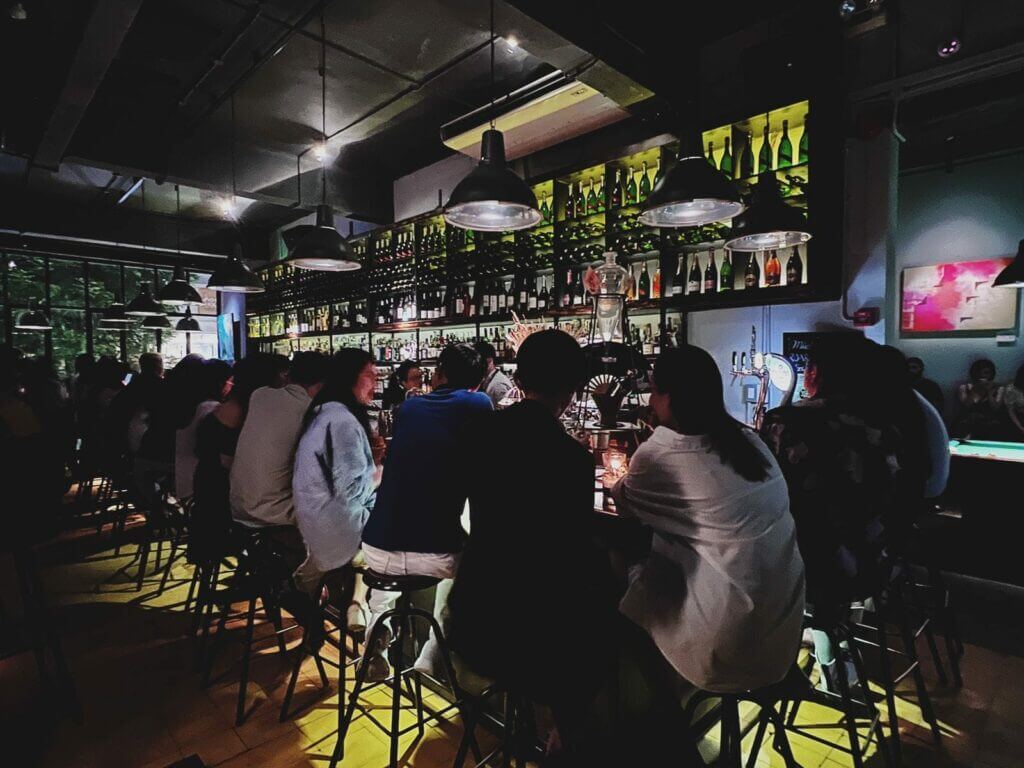 Layla was founded by two food and drink enthusiasts who wanted to create an eatery and bar in Saigon that was different from the others. It's a restaurant specializing in extraordinary yet simple, honest rustic sharing meals and beverages in a warm and unassuming setting. In Ho Chi Minh, they've created some of the city's best cocktails that you can find anywhere in Ho Chi Minh.
Directions: Here
Best Cocktail Bar: The Alley Cocktail Bat & Kitchen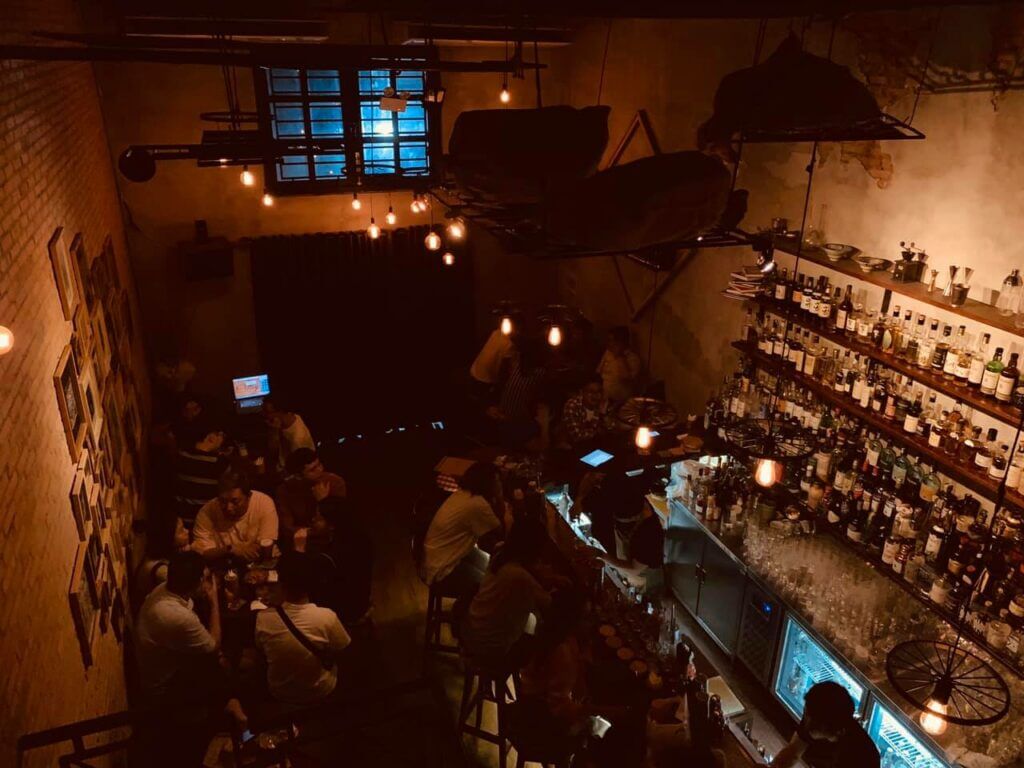 Escape the city center crowds and transport yourself to a cozy, elegant environment at The Alley by taking the small alley of Pasteur Street. whatever your purpose for visiting, The Alley is the ideal intimate gathering spot for a nice meal or as a perfect way to end a working day. With vintage decor and a range of comfortable seating throughout the space, it's the perfect place to gather with friends. In addition to a variety of fine wines from all around the globe, the relaxed ambiance offers sophisticated cocktails.
Directions: Here
Best Bars Saigon: Sports Bars
If you're looking for a place to catch the game with your friends, look no further than District 1s diverse range of sports bars. You can find pubs, gastropubs, bistros, and more that will have your favorite game on TV or live sports action. Plus, with different sports bars to choose from, there is bound to be one that fits your taste. The food menu at these bars usually features some of the best items in town! So whether you're a football fan, check out District 1s sports bars!
Best Sports Bar: Phattys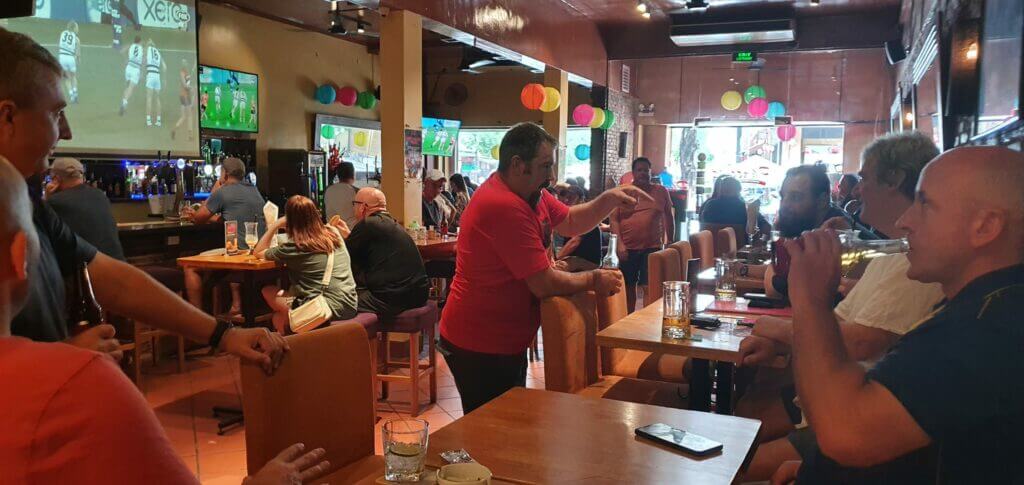 If you're looking for a calm setting with kind personnel and friendly clientele that share the same passion for sports, Phattys is the spot for you. They ensure that all of their clients are treated with care and attention and served the coldest beers in Saigon and the finest pub grub. They have a projector screen that broadcasts live sports 24 hours a day and many big flat-screen TVs. They can display as many live events as we have on televisions simultaneously.
They cover AFL, NRL, Rugby, Cricket, Football, Golf, Motorsport, Horse Racing, UFC, Tennis, and anything else you can think of Seriously!
Directions: Here
Best Sports Bar: Bar 5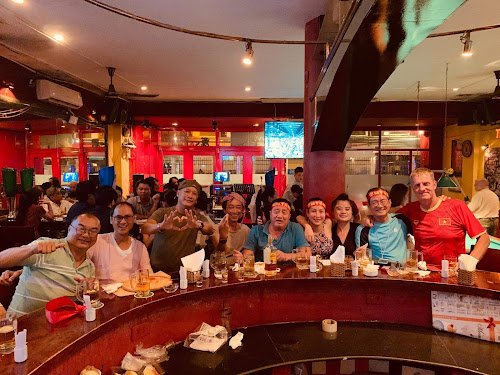 Bar 5 is not as decked out with all the screens and sports offerings Phattys above has, but they have more of a family vibe, with regulars opting for Bar 5. Its unassuming, laid-back atmosphere will allow you to watch your sports peacefully. The patrons are friendly, and if you would like to convo over a pint at the bar, this is the place for you.
Directions: Here
Best Bars Saigon: Nightclubs
Do you want to enjoy a night out with your friends but dont know where to go? Look no further than District 1 in Ho Chi Minh City – this district has a variety of nightclubs catering to all tastes and budgets. Most nightclubs close at 2 am, but a few stay open until 5 am or 6 am. They usually open late and offer a great atmosphere with great DJs playing all kinds of music. If you want something more exciting and hip, check out the nightclubs in the area. Make sure to dress to impress if you want to get into one of these hot spots!
Best Nightclubs: Lush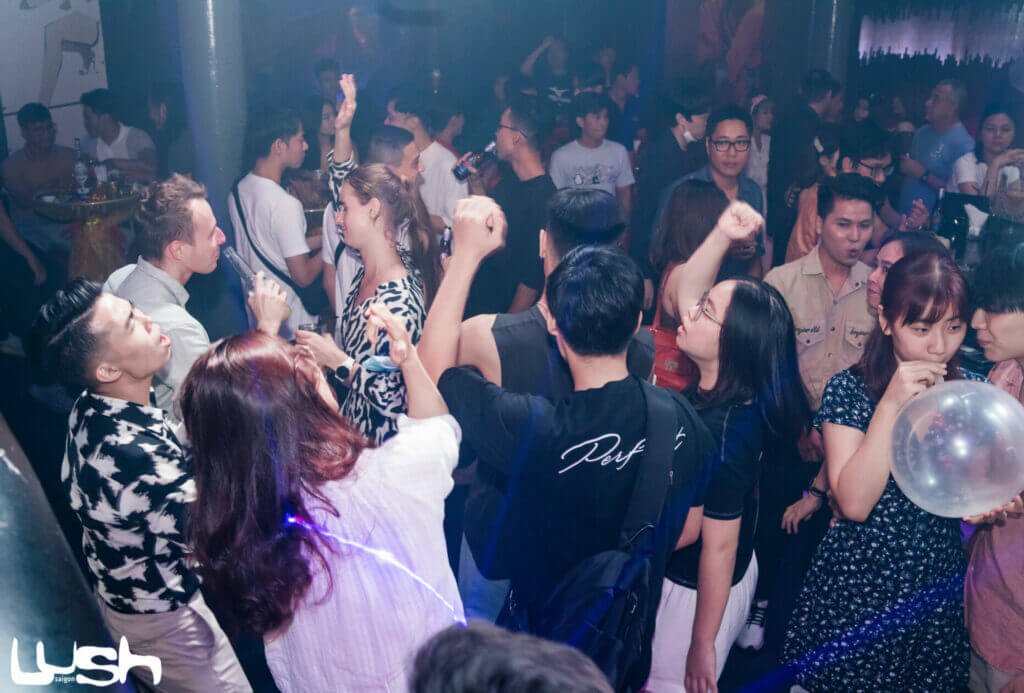 Lush, which opened its doors to the public on June 15, 2004, is one of Ho Chi Minh City's longest-running nightlife venues. Being home to some of the country's best local and international DJs and other talents and trendsetters, it has always played a prominent part in Saigon's nightlife culture. Be prepared to spend some cash as the place is quite expensive.
Directions: Here
Best Nightclubs: Commas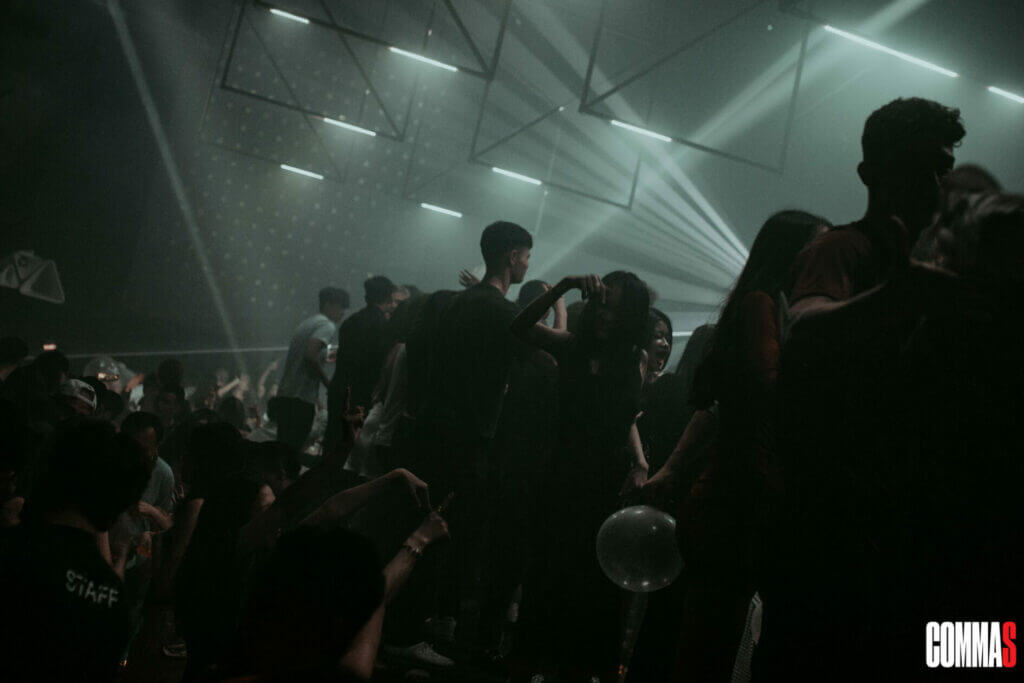 Are you a true party animal? If you are, it's safe to assume that you're looking for new and exciting places to explore. and doing things that no one else has done. Don't squander the chance to join Saigon's energetic, vibrant club as a "real party-goer." The perfect location to shoot your fire is Commas Saigon. This club is a new entertainment paradise that offers something new for the energetic Ho Chi Minh nightclubs circles.
Directions: Here
Best Bars Saigon: Rooftop Bars
District 1 Ho Chi Minh City should be your top pick if you're in the mood for some fun nightlife. Many rooftop bars offer great cityscape views and are perfect for a night out with friends. You can enjoy delicious drinks and food options while basking in the stunning views. Often, they have live music and DJs, making them an ideal spot to catch a show. Make sure to book your table in advance to avoid disappointment.
Best Rooftop Bar: Social Club Saigon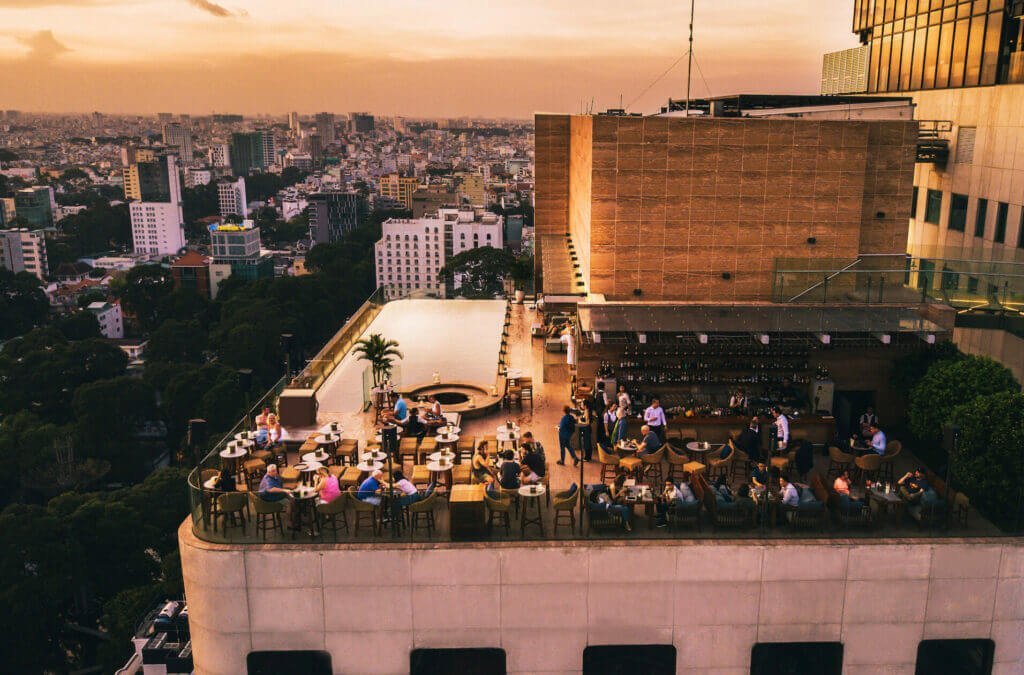 The stunning Social Club Saigon can be found on the Hotel des Arts Saigon roof. A few steps upwards take you to the 24th-floor roof bar and terrace, which offers stunning vistas of the Saigon skyline. From the inside 23rd-level restaurant, a few more vistas are available. The terrace has a genuinely natural and clean oasis vibe, with its own spectacular environment, several wood details, and the feeling of a very busy city.
Directions: Here
Best Rooftop Bar: Banana Mama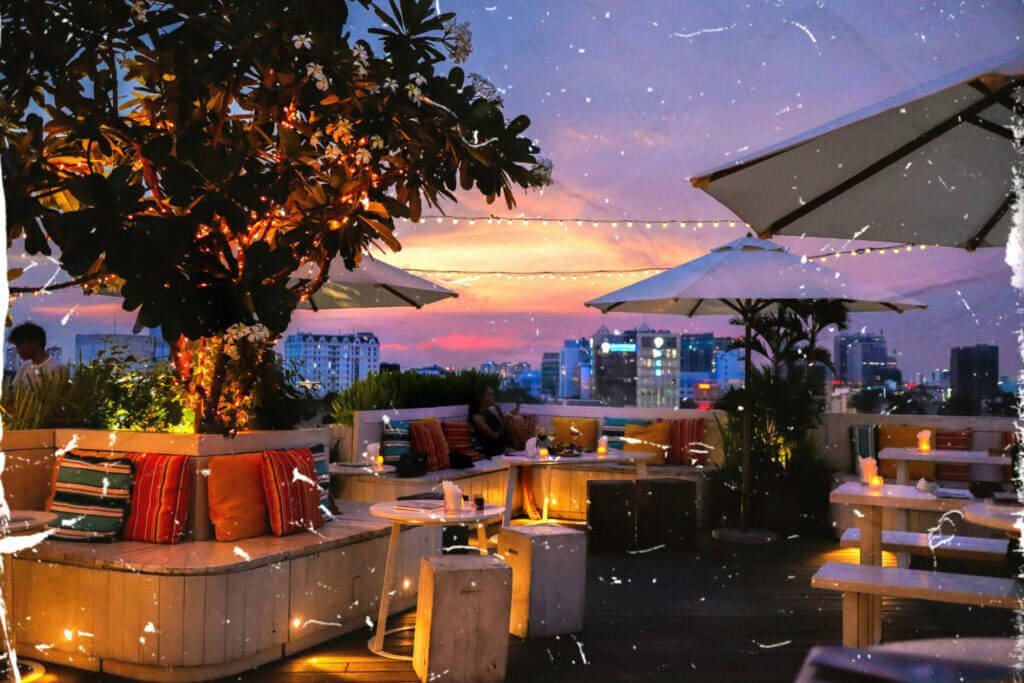 On the 10th level of the WMC Tower in District 1, the Banana Mama Rooftop Bar is a little-known gem. This, on the other hand, is a worthy destination. The wooden decked terrace is an excellent location to unwind from the bustling city and relax, with amazing views of the Saigon skyline, picturesque lounge areas, colorful cushions, and plenty of greenery.
Directions: Here
My Night Out if I Was To Search For The Best Bars In Saigon
If you are visiting here on holiday and have planned to spend a night out on the town or are looking for new ideas for a night out, here is an excellent Itinerary that will make the most of your night out!
5 pm – Head to Social Club Saigon (Hotel Des' Arts) Rooftop Bar and watch a fantastic sunset over Ho Chi Minh City Skyline
6.30 pm – After sunset, take a short journey down to a Sports bar to watch the latest sports but also grab some good pub grub to help stop you from getting too drunk later on.
7.45 pm – Make your way to the cocktail bar, listen to some excellent Jazz or live band (if on that night) and drink some fantastic cocktails to get you going
10 pm – Now you are a little tipsy and ready to up the game, stroll over to Kims Tavern and get flirting with the sexy Vietnamese bar girls and enjoy great drink offers such as buy one get one free
1 am – Time to get your dancing shoes on and see off the night in style, stumble to a Nightclub and listen to some of the best EDM in Saigon
4 am/6 am BED!!!!
Let us know where you go, which bars you decided to visit, and how you planned your night out in Saigon. If you think other bars should be on this list again, let us know in the comments below!!