Prepare yourself for a thrilling journey into the heart of Christmas celebrations in Ho Chi Minh City! Envision the streets twinkling with lights, active markets, and a widespread joyous atmosphere. This guide will escort you through the day's events, from sunrise to the final moments before the next day begins. You will acquire insights on how to fully experience the local Christmas vibe.
Get ready, we're about to walk through the festive scenes of Vietnamese Christmas festivities!
'Christmas in Ho Chi Minh City is not just an event, it's a mosaic of culture, lights, and joy—a celebration that speaks to the heart.'
Setting the 'Christmas' Scene Of Christmas Day In Ho Chi Minh City
You may be curious if Christmas is a celebration observed in Vietnam and how the Christian community there participates in the holiday. Additionally, let's consider what kind of weather you're likely to encounter in Ho Chi Minh City during the holiday period.
Vietnam, with its rich tapestry of cultural practices, does indeed observe Christmas, particularly in urban areas like Ho Chi Minh City. While the majority of Vietnamese people aren't Christian, the festive atmosphere of Christmas has captured the hearts of many residents. Bright lights and decorations adorn the streets, and many shops and restaurants get into the spirit with holiday-themed displays.
The Christian community in Vietnam, though smaller in comparison to other religious groups, is vibrant and enthusiastic about Christmas celebrations. Churches are beautifully adorned, and you can expect to see traditional services and masses being conducted with great fervor.
As for the weather, Ho Chi Minh City is known for its tropical climate, and December is no exception. Those dreaming of a white Christmas might need to adjust expectations, as the city typically experiences warm temperatures and a more humid environment during this time of the year.
Do Vietnamese Celebrate Christmas?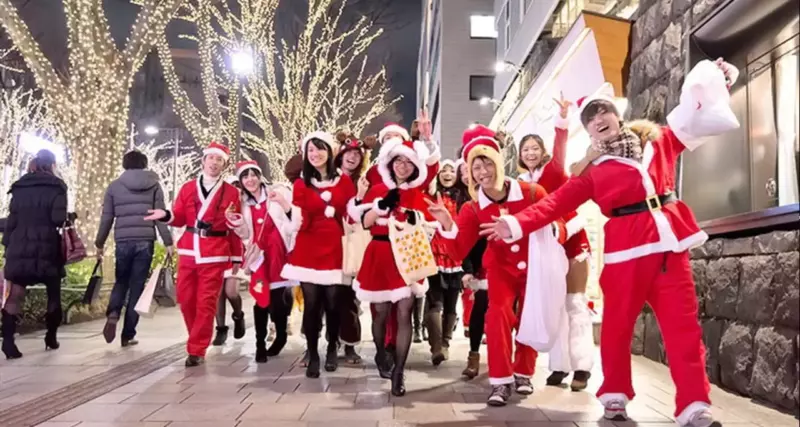 Let's explore the unique ways in which the people of Vietnam, especially around Ho Chi Minh City, create a festive Christmas atmosphere. Even though Christmas isn't traditionally a major holiday in Vietnam, signs of festivity are quite visible.
You can notice buildings and streets adorned with festive decorations and strains of holiday music in the air. The community comes together impressively, with many dressing up as Santa Claus and sharing gifts with the less fortunate. It's not the season for family reunions; rather, the focus is on social events and outdoor celebrations.
The warmth of the Christmas spirit is reflected in the Vietnamese celebrations, with a focus on togetherness and generosity rather than commercial aspects.
'In Vietnam, the warmth of the Christmas spirit is woven not through the gifts we exchange, but through the smiles we share and the hands we extend to those in need.'
Does Vietnam Have A Big Christian Community?
While Buddhism is more widespread in Vietnam, the country is also home to a noteworthy Christian population, especially in Ho Chi Minh City. Around 8% of Vietnamese identify as Christian, and within this group, Catholics are the majority, with Protestants forming a smaller yet active community. Their faith is a vital part of Vietnam's cultural fabric, with practices such as regular church services, participating in sacraments, prayer, and religious education making up their spiritual routines.
Ho Chi Minh City, in particular, becomes alive with festive spirit during Christmas, regardless of religious backgrounds. The city's many churches aren't just places for spiritual gatherings; they also stand as historical monuments. Whether you practice Christianity or not, the Christmas season in Ho Chi Minh City offers a chance for everyone to witness the dynamic Christian community and their celebrations.
'Experiencing the Christmas spirit in Vietnam offers a unique insight into the country's diverse cultural landscape, where traditions and modernity blend seamlessly.'
What is the Weather Like In Ho Chi Minh City at Christmas?
When you're getting ready to spend Christmas in Ho Chi Minh City, it helps to have an idea of the local weather so you can pack and plan your days. Around this time, the city may experience occasional rain, so think about having a flexible schedule for outdoor activities. Even with a few showers, you'll get to enjoy about 7.2 hours of sunshine every day, which is great for experiencing the holiday ambiance, cultural events, and the buzz of the city.
There's ample daylight, around 11.5 hours, giving you a lot of time to explore and make memories. The average wind speed around this time is 9.6 mph, bringing a refreshing breeze to the warm temperatures. The festive season here isn't marked by snowflakes and cold weather, but rather by a warm atmosphere and a chance to see how Christmas is celebrated in a vibrant city under a tropical sky.
'Experience a different kind of festive cheer under the tropical skies of Ho Chi Minh City.'
Celebrating Christmas Morning In Ho Chi Minh City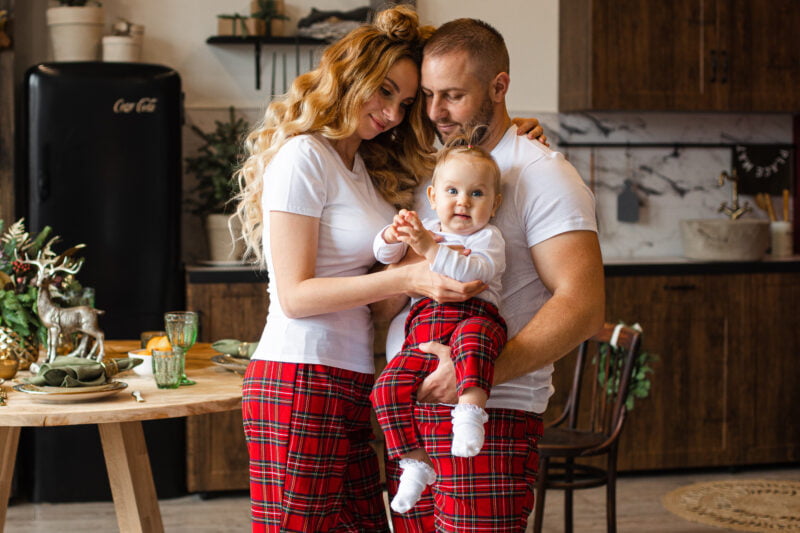 Awake at dawn on Christmas in Ho Chi Minh City, what comes first for you? You might start the day's joy with unwrapping gifts and sipping a refreshing Bucks Fizz. Or you could be seeking ways to enjoy the holiday morning uniquely, given the lack of snow, or you might be planning to join a local church for Christmas morning service.
'Christmas in Ho Chi Minh City brings its own magic, even without the blanket of snow. It's a time to create new traditions and memories.'
Start With A Present Opening & Cheeky Bucks Fizz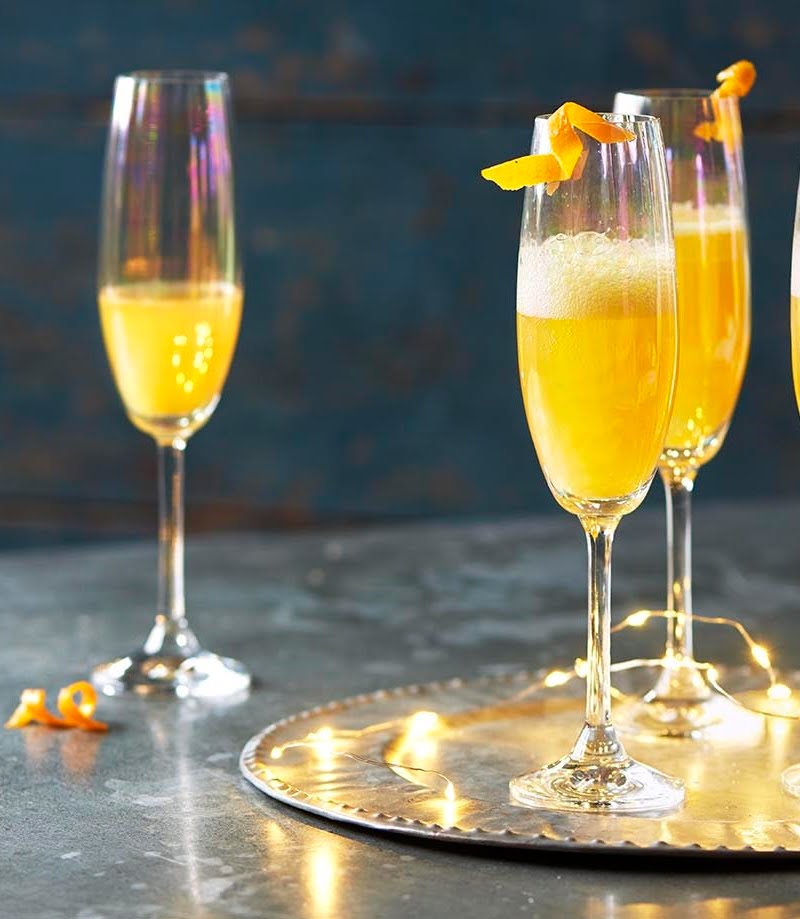 Begin your Christmas day in Ho Chi Minh City with the joyful tradition of unwrapping gifts. But perhaps you're a bit behind on picking up those last-minute presents and essential holiday groceries. No need to fret; we're here to guide you through the eleventh-hour scramble with ease.
Kick off the festivities with a cheerful toast of Bucks Fizz, and let the merriment lead the way as you tackle the gift-giving and feast preparations. If you're worried about the time crunch, breathe easy. We've practical tips to help you find everything you need without the usual stress.
Whether it's sourcing your ingredients from local markets or finding that perfect gift from a nearby boutique, the key is to remain calm and enjoy the holiday spirit. Remember, the best moments often come from the unexpected surprises and the shared experiences with loved ones.
Last Minute Christmas Food Essentials?
If you're on the hunt for Christmas food essentials in Ho Chi Minh City and time is running out, don't worry, there's a variety of places you can visit.
Phuong Ha and Thai Hoa offer an extensive selection of products that might just have what you need. For those with a taste for American products, US.MART is a popular choice. Annam Gourmet Market is your destination for more upscale items.
In situations where every minute counts, online shopping could be a convenient alternative. Traditional supermarkets or local groceries are reliable options as well. And let's not overlook the international food fairs, where expat communities and businesses that focus on foreign imports often provide those elusive items you're after.
Product Specs: From local specialties to imported goods and fine foods, there's a diverse selection of Christmas food essentials to be found.
Pros: A broad array of shopping venues, both in-person and online, offering an extensive product range.
Cons: Expect the stores to be busy with other last-minute shoppers, and popular items may run out of stock.
Last Minute Christmas Present Essentials?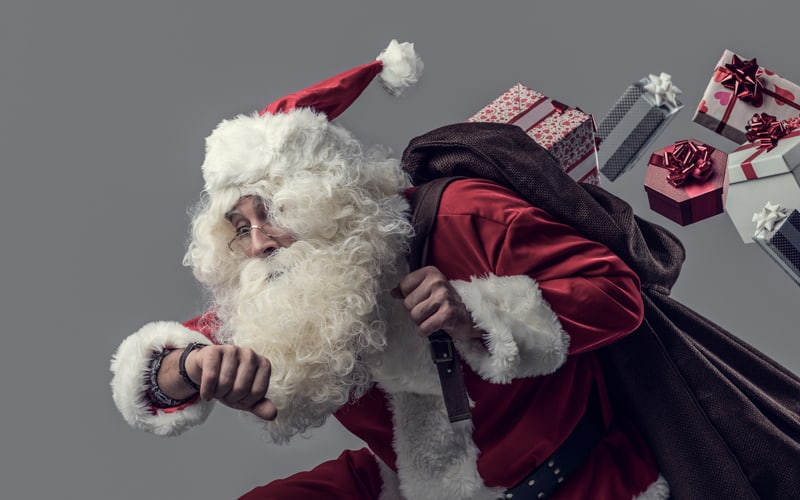 Are you searching for those final touches to your Christmas gift list in Ho Chi Minh City? Worry not, as there's an array of both online and brick-and-mortar shops ready to assist.
Online marketplaces such as Shopee and Lazada are bustling with creative gift ideas, budget-friendly festive decorations, and do-it-yourself Christmas craft kits.
For those seeking amusement, consider a variety of Christmas party games. And if you're aiming to delight someone who loves cooking, seek out unique holiday recipes.
Specific Examples:
For gadget enthusiasts, check out the latest tech accessories.
Book lovers might appreciate a bestseller or a classic novel from a local bookstore.
Fashion aficionados could enjoy a stylish scarf or handcrafted jewelry from a boutique.
Remember to check delivery times to ensure your items arrive before Christmas Day.
Enjoy the holiday season and the joy of giving!
Christmas Morning Fun Without Any Snow?
Who says a lack of snow can take away the joy of Christmas morning?
In Ho Chi Minh City, you can start your holiday festivities with a refreshing time at Van Thanh Swimming Pool or Dam Sen Water Park.
It's a delightful and unusual way to enjoy the festive season under the warm tropical sun.
Van Thanh Swimming Pool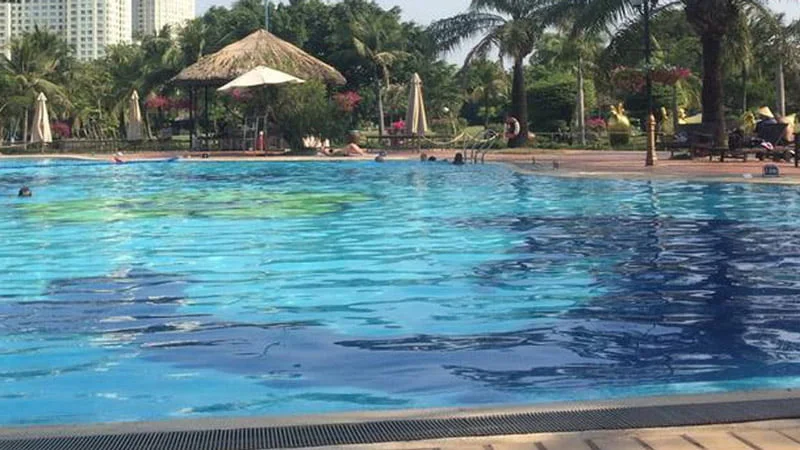 Begin your Christmas day in Ho Chi Minh City with a refreshing morning at Van Thanh Swimming Pool. This oasis offers a calm escape from the city's energetic pace.
You can look forward to swimming laps in the pool, lounging and soaking up the sun, enjoying a meal at the café, and experiencing the lively poolside entertainment.
All these elements contribute to a distinctive Christmas celebration in a warm, tropical setting.
Dam Sen Water Park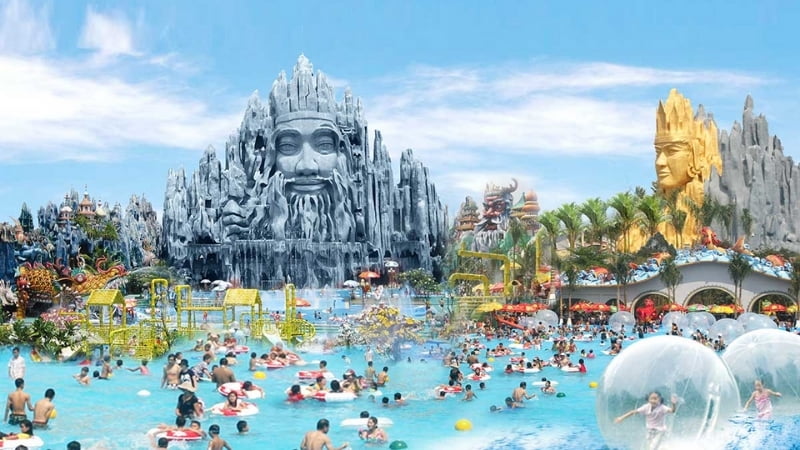 Following a refreshing dip at Van Thanh Swimming Pool, carry on with your Yuletide celebrations by heading to Dam Sen Water Park. This beloved spot is situated in the bustling heart of Ho Chi Minh City and gets into the holiday spirit with festive decorations.
The park is a great place to spend time with family, featuring a variety of water slides and activities suitable for all ages. For details on admission fees and operational hours, it's a good idea to check their official website.
Keep in mind, the joy of the season isn't about frost and snowflakes; it's the pleasure and memories you create that truly matter.
'Don't let the lack of winter chill dampen your holiday spirit; joy comes in many splashes at Dam Sen Water Park!'
Going To Christmas Morning Mass In Ho Chi Minh City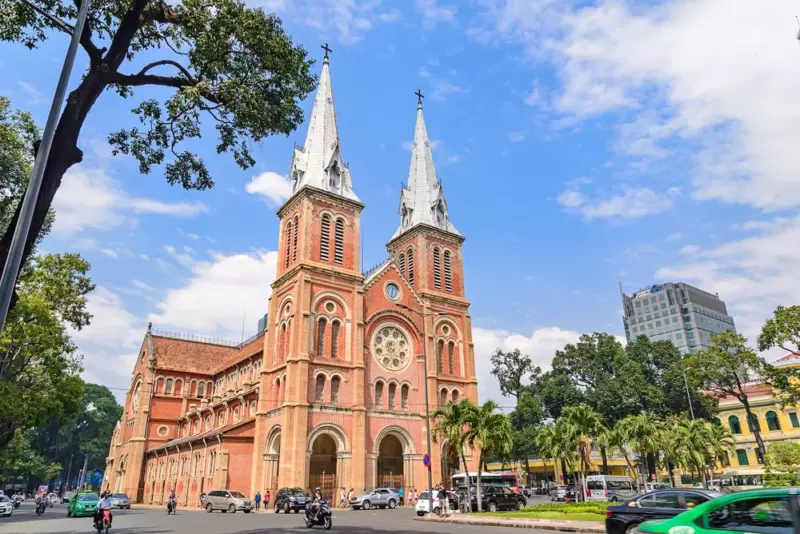 If you're spending Christmas morning in Ho Chi Minh City and are looking for a place to observe the holiday, consider attending the English mass at the well-known Notre-Dame Saigon Cathedral Basilica.
This striking church in the heart of Saigon extends its services to the Catholic community with an English-language service. Such services reflect the city's international spirit and cultural mix.
Attending mass here feels welcoming and familiar, especially for those who speak English and wish to connect with Christmas traditions in a meaningful way. The service is an opportunity to gather with individuals from various backgrounds, fostering a sense of community and shared celebration amidst the city's vibrant cultural patchwork.
'For those away from home, the Notre-Dame Saigon Cathedral Basilica's English mass is a warm reminder of shared traditions and the spirit of togetherness that Christmas brings,' reflects a local parishioner.
Christmas Afternoon
After enjoying the morning's joyous celebrations, consider how you might spend your Christmas afternoon in Ho Chi Minh City. You might be thinking about sitting down for a festive meal, catching a film, or taking in the holiday decorations at some of the city's popular shopping centers. Allow us to assist you in planning a memorable holiday afternoon.
Some Places To Find a Good Christmas Dinner In Ho Chi Minh City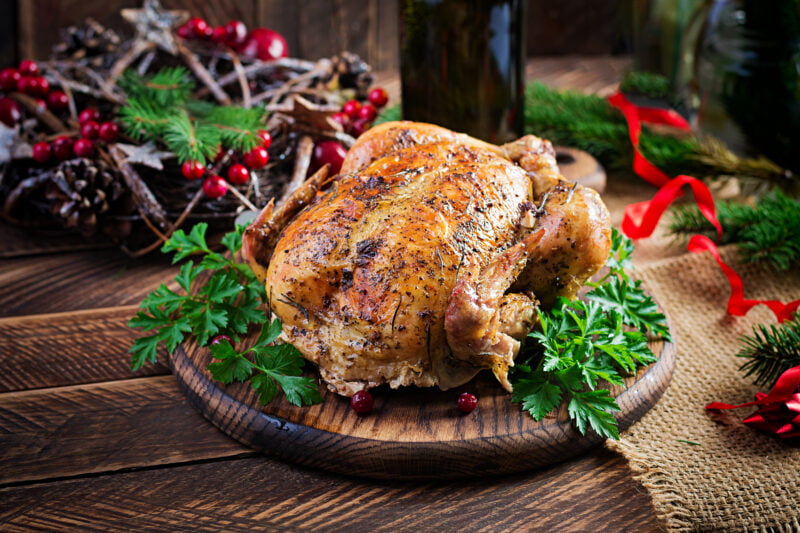 Spending Christmas in Ho Chi Minh City can be a delightful experience, especially with the array of dinner options available to celebrate the festive day.
For those missing the taste of a classic English meal, consider visiting Union Jacks, where the aroma of a hearty meal will remind you of home.
On the other hand, if an American-style feast is what you're after, Eddies American Diner offers a warm, inviting atmosphere where you can indulge in familiar holiday flavors.
Both establishments are known for their commitment to authenticity and quality, ensuring that your Christmas meal will be a memorable one.
Whether you're longing for the comfort of a roast with all the trimmings or the satisfaction of a sweet, rich pie, these venues are prime choices for a festive dinner that will leave you feeling content and festive.
Union Jacks For A Traditional English Style Christmas Dinner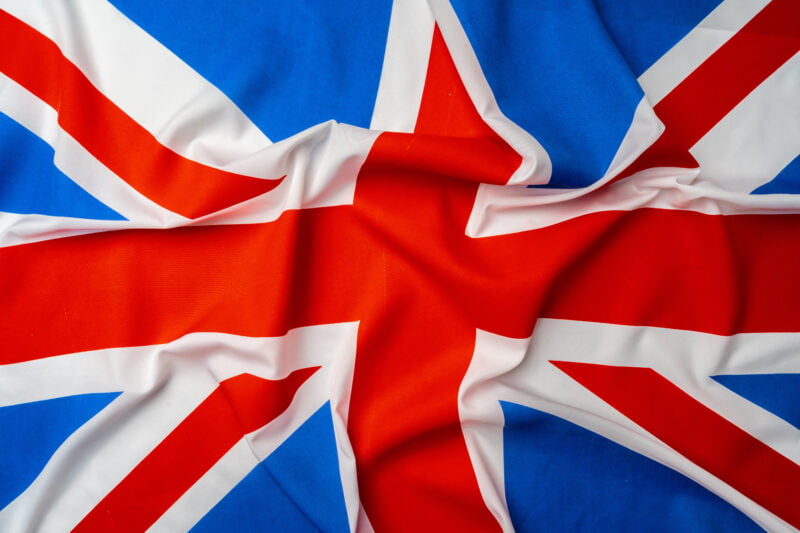 If you're in Ho Chi Minh City and longing for a taste of British festivities, Union Jacks should be your go-to spot. At this cozy establishment, you're invited to indulge in a quintessentially English Christmas dinner that warms the heart with its familiar flavors.
Traditional pudding and mince pies are on the menu, sure to satisfy those holiday cravings. As you savor your meal, the air is filled with the sound of English carols, adding to the yuletide cheer.
A highlight of the experience is the opportunity to crack open Christmas crackers—just like you'd in the UK. It's a charming touch that completes the authentic British holiday atmosphere, even while you're miles away in Vietnam.
Find a touch of British holiday magic right here in Vietnam at Union Jacks.
Eddies American Diner: For A Traditional American Christmas Dinner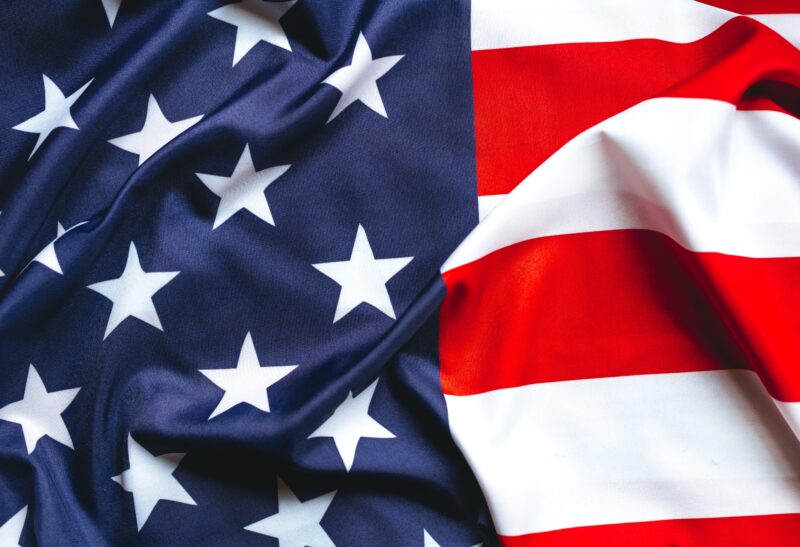 If you're on the hunt for a classic American-style Christmas meal in Ho Chi Minh City, Eddie's American Diner should be on your list.
The diner is decked out with genuine decorations that set the holiday mood.
This spot honors American holiday customs, tweaks its menu to appeal to local palates, and includes festive entertainment to create an unforgettable experience of a traditional American Christmas dinner.
Watch A Christmas Movie At The Cinema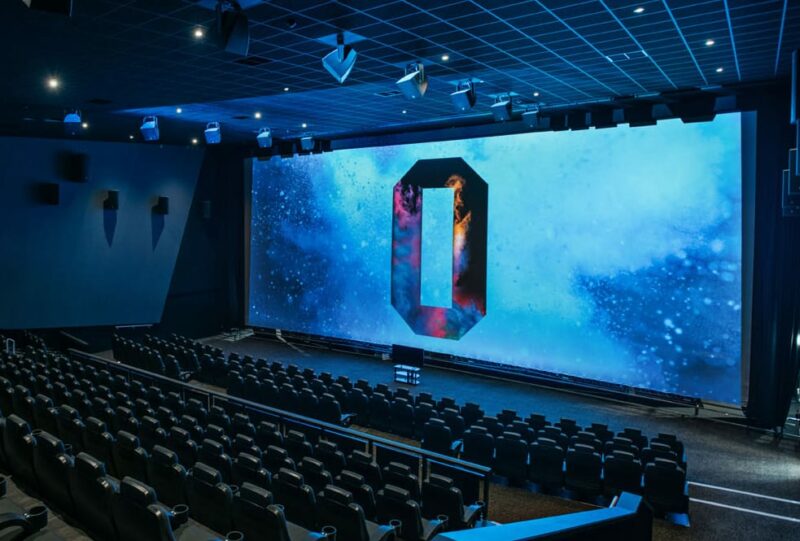 Following a delightful Christmas feast, why not keep the festive spirit alive by watching a Christmas film at one of Ho Chi Minh City's premier cinemas? This is a perfect activity to relax and get into the spirit of the holidays.
Let me guide you to some of the finest movie theaters where you can spend a cozy Christmas afternoon.
After indulging in the festive banquet, a light-hearted Christmas movie is a superb choice for winding down. Ho Chi Minh City boasts several excellent cinemas where you can continue the holiday merriment. Here are a few cinemas you might want to visit for a memorable Christmas film screening.
"Movies can transport you into another world, a particularly welcome escape after a bustling Yuletide day," says local cinema enthusiast Minh Anh. With her advice, you'll find the perfect spot to settle in for a movie that'll make your Christmas in Ho Chi Minh City even more special.
Top Cinemas In Ho Chi Minh City
If you're planning to spend a relaxing Christmas afternoon watching a movie, Ho Chi Minh City has several cinemas to consider.
CGV Cinemas is a popular choice, with over 20 locations, offering a variety of viewing options including the intimate Sweetbox perfect for couples, and the immersive 4DX that engages all your senses.
Lotte Cinema, another well-liked option, operates 11 locations and features the luxurious Gold Class experience for those looking for that extra comfort.
Don't miss out on BHD Star Cineplex, particularly its impressive Vincom Ba Thang Hai location.
For movie-goers looking to enjoy a movie without breaking the bank, Galaxy Cinema, Cinebox, Cinestar, and Mega GS are fantastic budget-friendly choices.
Product Specs:
CGV Cinemas: Boasting more than 20 locations, they offer a range of unique viewing experiences.
Lotte Cinema: With 11 locations, they provide the lavish Gold Class experience.
BHD Star Cineplex: Operating 6 locations, including a major one at Vincom Ba Thang Hai.
Wallet-friendly options: Galaxy Cinema, Cinebox, Cinestar, Mega GS.
Pros:
A selection of experiences to suit different tastes and budgets.
Many locations throughout the city for easy access.
Extended hours of operation to fit your schedule.
Cons:
Premium experiences can come with a higher price tag.
Some cinemas mightn't display 3D movie prices upfront.
Not every cinema offers the same range of viewing experiences.
When selecting the perfect cinema for your holiday movie experience, consider what matters most to you—comfort, technology, or price—and you'll find an option that fits your needs in Ho Chi Minh City. Keep in mind that nothing beats the magic of watching a Christmas movie on the big screen, surrounded by the buzz of fellow movie enthusiasts.
See Some Christmas Displays At Some Of The Biggest Malls In Ho Chi Minh City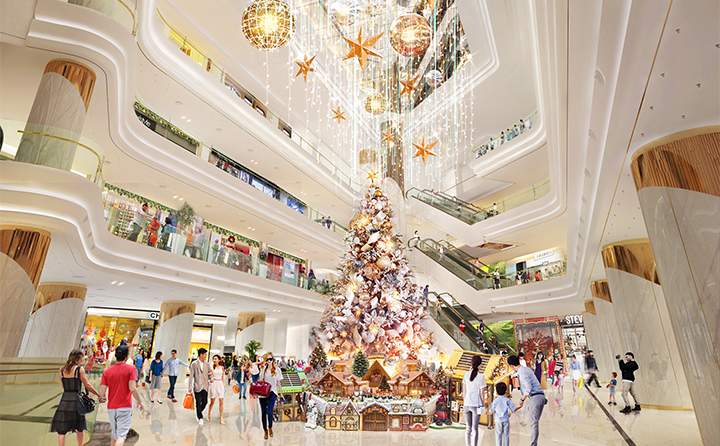 In Ho Chi Minh City, some of the largest shopping centers transform into winter wonderlands during the Christmas season. As you search for the perfect gifts, you're treated to a visual feast of holiday cheer. The decorations go beyond the usual fare, presenting grand and imaginative setups that truly highlight the spirit of Christmas.
For those who appreciate festive decor, Saigon Square, Vincom Center, and Diamond Plaza in District 1 are must-visits. They each present a different interpretation of classic Christmas elements, with everything from massive Christmas trees to dazzling light displays. You won't want to overlook Saigon Garden Mall in District 12 and Landmark 81 in Binh Thanh District, where the festive ambiance continues. These shopping havens are more than just places to buy gifts; they also craft lasting Christmas memories.
Custom Quote: 'In every shared smile and laughter; in every silent prayer answered; in every opportunity that comes your way – may the Almighty bless you immensely this Christmas.'
Spending Christmas Evening
As evening approaches on Christmas Day in Ho Chi Minh City, you might be looking for a memorable way to spend your time.
Visit A Walking Street
As Christmas Day transitions to evening, why not take a leisurely walk along one of Ho Chi Minh City's lively pedestrian zones? You can pick from places like Nguyen Hue Walking Street or Bui Vien Walking Street, each with its own distinct charm.
This is an excellent opportunity to soak in the holiday cheer, savor the local cuisine, and get a closer look at the cultural scene.
'Strolling through Ho Chi Minh City's walking streets during Christmas is like unwrapping a living gift, brimming with cultural delights and culinary wonders.'
Nguyen Hue Walking Street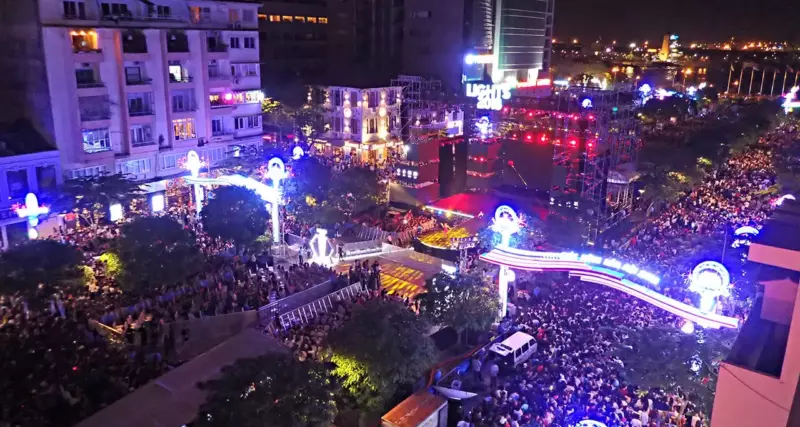 As the Christmas season sparkles, a stroll through Nguyen Hue Walking Street becomes a must-do. Immerse yourself in the holiday spirit with lively street performances and get a sense of the area's rich history.
The night comes alive with energy, making it an ideal spot for those looking to experience the local culture. Treat yourself to the flavors of the region from welcoming food vendors, and perhaps pick up a few last-minute gifts to round out your festive shopping.
Combining traditions, fun, and flavors, a visit here promises to give a distinctive flavor to your holiday festivities.
'Christmas on Nguyen Hue Walking Street is like stepping into a vibrant painting of culture and joy, where every corner offers a new taste, sound, or story to take home.'
Bui Vien Walking Street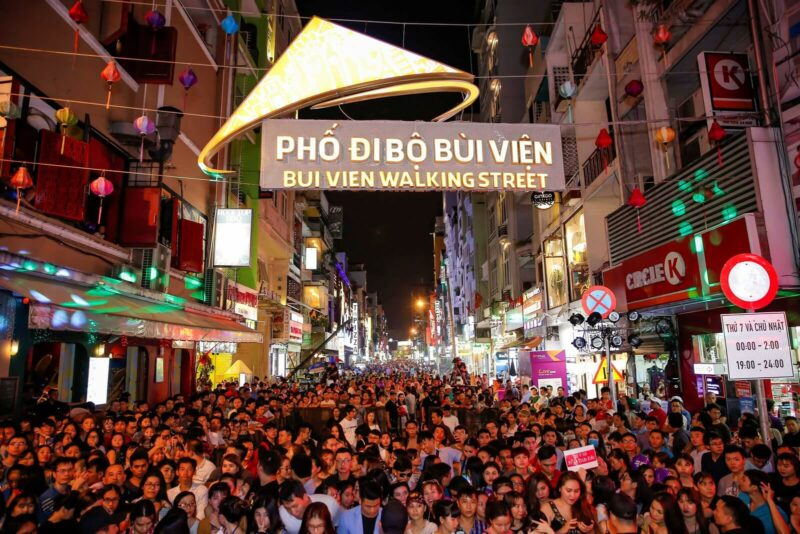 Once you've wandered through Nguyen Hue, your journey continues to Bui Vien Walking Street. Here, every encounter adds something special to your Christmas evening in Ho Chi Minh City.
Get ready for a festive atmosphere where street performers entertain, the night market invites you to try delicious local dishes, and the rich history and culture of the area come alive.
This lively street is an essential stop for anyone looking to experience the full joy and community spirit of the holiday season.
Saigon River Cruise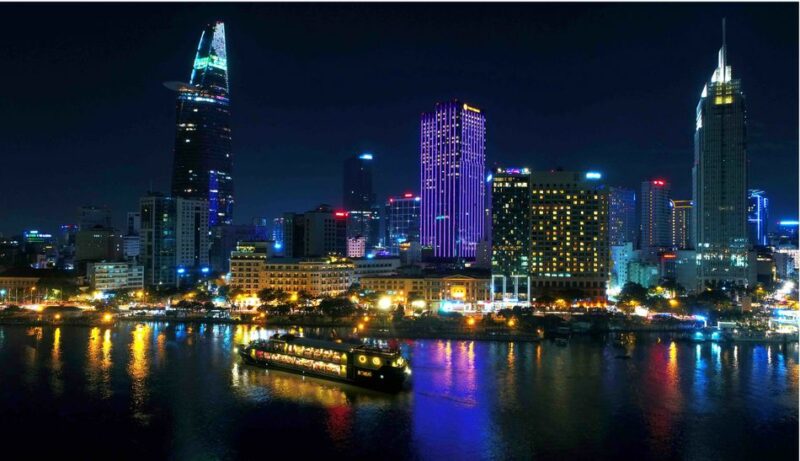 Spending your Christmas evening on a cruise along the Saigon River offers a memorable and enchanting experience. As the boat moves gracefully through the water, you'll get to know the river's rich history and see Ho Chi Minh City's nighttime skyline from a fresh angle.
The culinary offerings on board range from local Vietnamese delicacies to well-loved international dishes, all meticulously prepared. Live music and dynamic performances provide entertainment that adds a cheerful note to the holiday atmosphere. With a strong emphasis on safety, you can unwind and fully delight in your evening.
This cruise is the perfect way to conclude your Christmas Day, leaving you with lasting memories.
'Experience the warmth and joy of Christmas in the heart of Ho Chi Minh City with a serene journey down the Saigon River.'
Of Course A Must do Is Visit Kim's Tavern Girly Bar at Christmas 🙂
If you're looking to infuse your Christmas evening with a dash of local charm, make your way to Kim's Tavern Lady Bar in Ho Chi Minh City. Tucked away on Huynh Thuc Khang street, this lively spot offers a refreshing take on holiday celebrations.
Walking into Kim's Tavern, you'll notice the holiday cheer is in full swing, with decorations that blend traditional Christmas elements with a touch of Vietnamese culture. It's a place where everyone is welcomed warmly and treated as if they were long-time friends.
Here, the holiday spirits come in glasses too, with an array of festive beverages crafted by experienced bartenders. Live music fills the air, setting a joyous tone for the evening. Take part in the bar games on offer – they're a hit with guests and a great way to enjoy the company of others.
A visit to Kim's Tavern means engaging with the local scene respectfully and joyfully, sharing in the warmth of the season. So join in and celebrate Christmas with a memorable night at this friendly spot.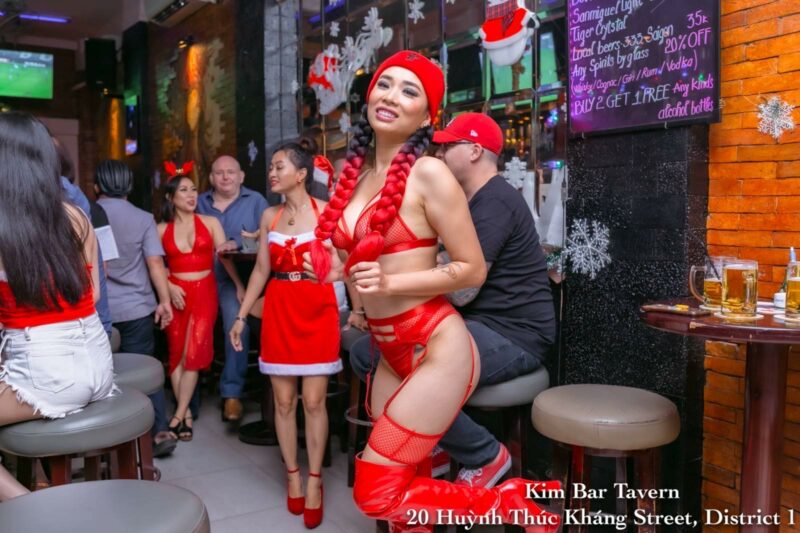 Conclusion
Prepare yourself for an unforgettable Christmas celebration in Ho Chi Minh City. From sunrise to the late hours when the sky is dotted with stars, the city's holiday cheer is infectious.
This Christmas, let the lively avenues of Ho Chi Minh City become your playground and the local residents your companions in festivity. In this city, Christmas transcends beyond a mere season; it's an emotion that resonates with everyone.