It's only fitting to give you guys time to recover after a night out at the best bar in Ho Chi Minh, And what better way to heal than to have a massage in Saigon? Travelling to a spa in Ho Chi Minh City can be a dream with the sweet scent of freshly cut lemongrass in the air and relaxing music playing in the background. You may be in need of spa treatments in Saigon.
After a long night on the pop, or even for those who have been shopping or exploring the city, you may need a massage for your muscles to relax and rejuvenate. We are lucky to live in a city full of award-winning spas offering beauty treatments and body massages in every corner of the city. There are many different kinds of massages that you can get – whether you want a traditional massage, a deep tissue massage, a hot stone massage, or a facial to rejuvenate your skin.
Top 5 Spas For Massages in Saigon
Moc Huong Spa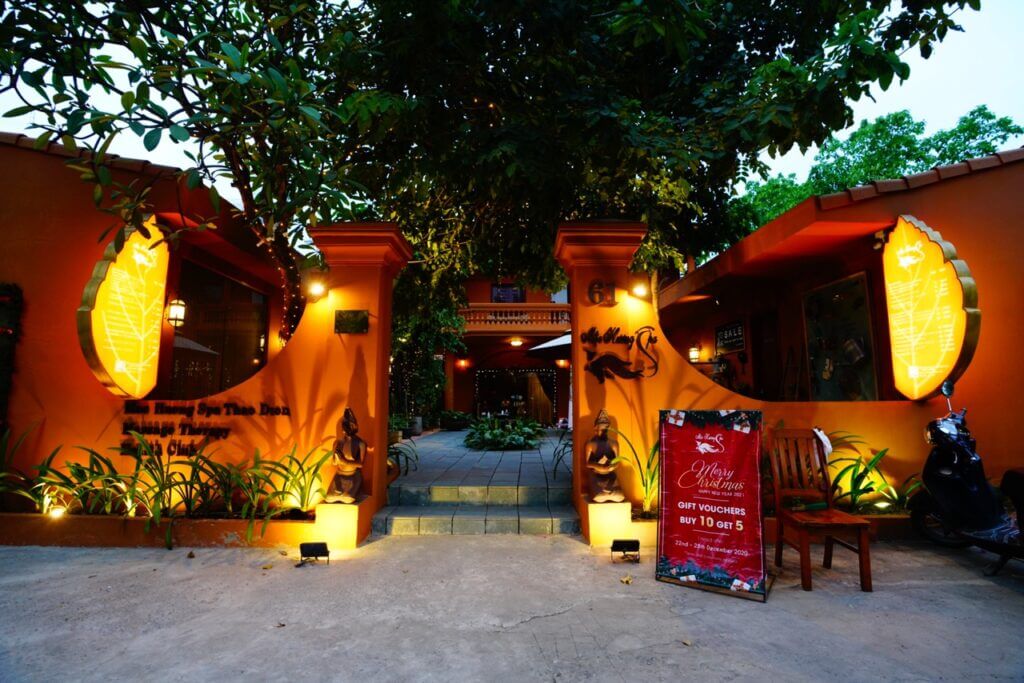 Moc Huong Spa provides massage in Saigon from all of its chain of spas. They offer services that combine massage therapies from countries such as Japan, Sweden, India and Thailand with traditional medicine that is used in Vietnam. Moc Huong Spa outlets can be found in the centre of Ho Chi Minh City or Thao Dién, a popular neighbourhood for international visitors & Expats.
Moc Huong Spa offers a wide selection of body and massage treatments, including massages, foot treatments, manicures and facials. It is possible to have the massage treatment tailored to each part of your body, such as the head, shoulders, legs or feet. There is no set amount of pressure that you can apply to different parts of your body. Moc Huong Spa will prepare a delicious snack and a cup of hot tea for you.
Contact Details For Moc Huong Spa
Sa Spa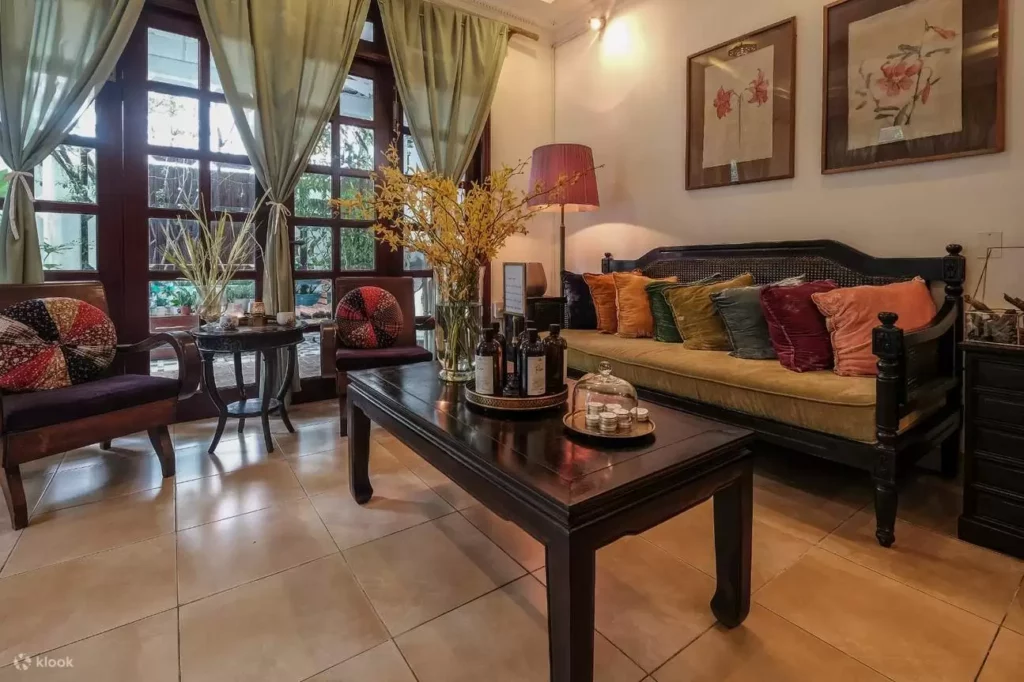 They place so much effort into their design that it makes it unique. Designed to look like a beautiful, old-fashioned Vietnamese house, the spa will relax you and give you a sense of tranquillity as soon as you walk through the front gate. A relaxing walk through a lush garden at Sa Spa will help you relax and refresh. They will provide you with a cold drink, and their menu will help you feel like you are home. S Spa offers not only massages but also beauty treatments for your skin, hair, and nails.
They even have saunas and steam baths that are very relaxing. You have many options for the massage treatment, and you can also choose a time frame for how long you want your massage to last. You can choose between 45, 60, or 90 minutes. If you have the time, try to stay for as long as possible. It will be the perfect way to end a long, hard day. You will feel refreshed and rejuvenated.
Contact Details For Sa Spa
Miumiu Spa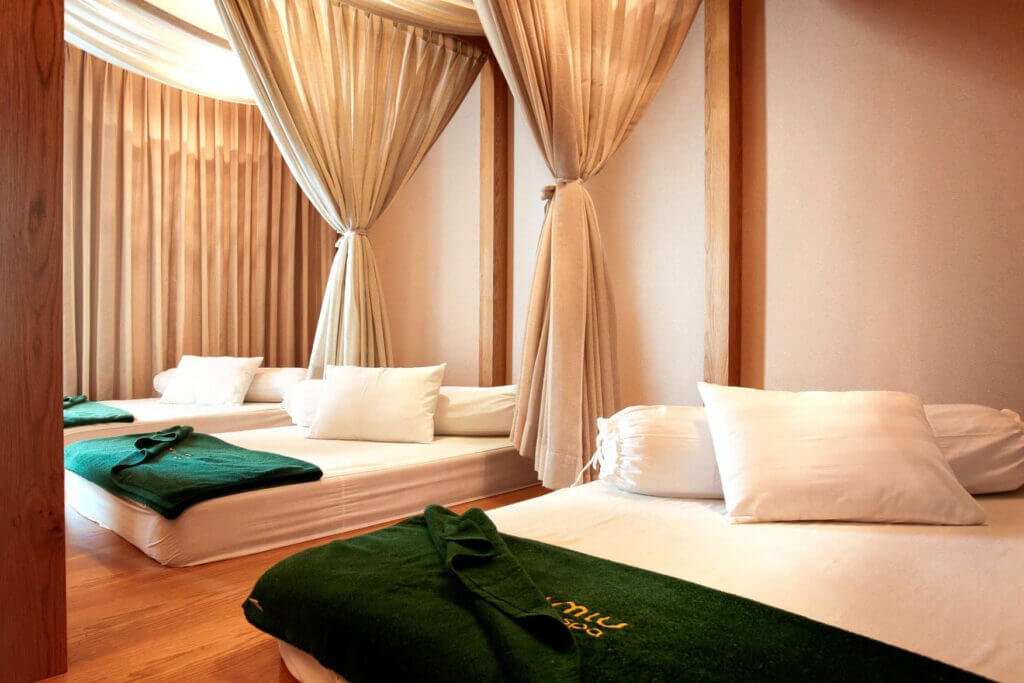 Miumiu Spa is a brand that has five spas in Saigon, making it easy for customers to get affordable and consistent massages at any of their outlets in District 1.
Each customer receives a personalised treatment, so before you are ushered into the spa, you are asked to fill out a questionnaire which explains your preference on how you want your body treated, such as your arms, shoulders, legs, etc., and whether you would prefer for the therapist to apply light, medium, or intense pressure to these parts.
You will be welcomed with a drink and taken to your personal area to shower and change into comfortable clothes. Then you will be shown to the treatment rooms. You can book a private spa session or a massage in one of the spa's more spacious treatment rooms.
Miumiu Spa offers the classic massage that you would expect from a local spa but also offers hot stone therapy, shiatsu massage, and a relaxing facial using fresh ginger essence. Miumiu Spa is very professional and has great therapists. We highly recommend you book your appointment asap to avoid disappointment.
Contact Details For Miumiu Spa
Cat Moc Spa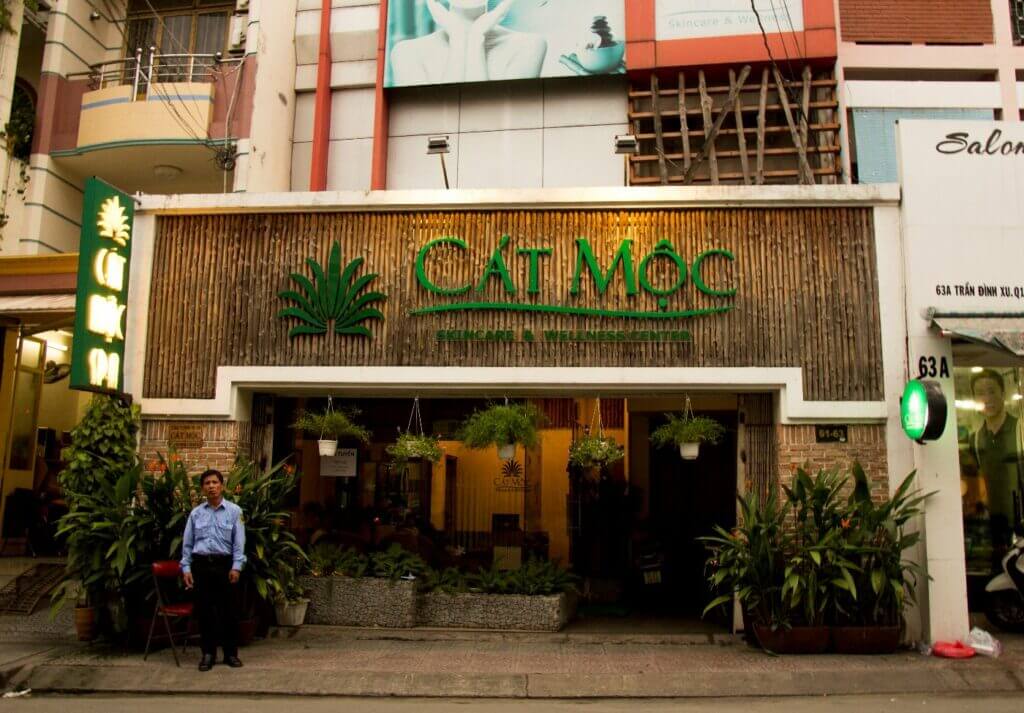 This is one of the best spas & massages in Ho Chi Minh City (Saigon) if you need some total relaxation. It is located on Tran Dinh Xu, a quiet street in the heart of Ho Chi Minh City, just 500 meters from the Phm Ngu Lao backpacker area. It is very easy to find.
These spas are very relaxing, with very calm lights and sounds, and you can feel peaceful the second you step inside their spas. This spa will pay for your taxi or Grab ride to get to the spa (one way). You don't have to pay anything to get there, but if you tell the receptionist where you are going, it will pay for the transportation you need.
They will give you the cash back after you have paid. There is an average of around 10 USD for a 30-minute massage. You can choose between Thai massage, Hot Stone massage, or a simple facial and other beauty treatments.
Contact Details For Cat Moc Spa
Le Spa des Artistes Saigon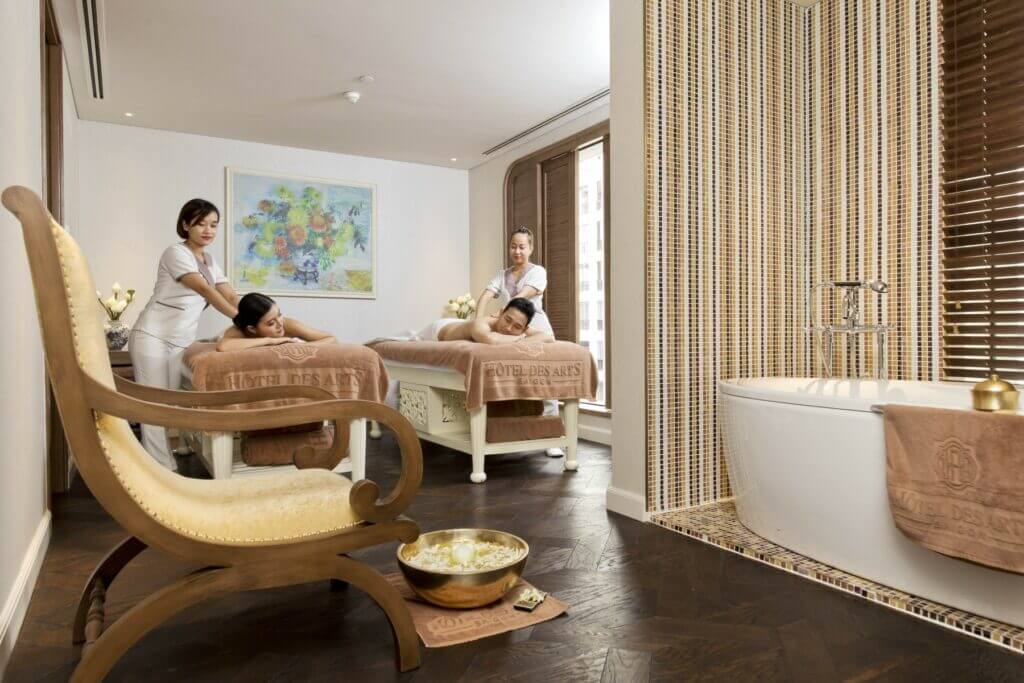 Spa Le Spa des Artistes Saigon is located in the prestigious Hotel des Arts Saigon. It is a peaceful place to relax after a busy day in the city. This spa was awarded the best hotel spa in Vietnam and the best luxury boutique spa in the Asia Pacific at the 2017 World Luxury Spa Awards.
Spa de l'Art offers a range of traditional and European treatments. Some of its treatments include herbal facials, massages, manicures and pedicures. It specialises in treatments to help people suffering from high blood pressure and stiff muscles. It is like stepping into a luxurious spa, where expert therapists use luxurious products designed to soothe, pamper and relax you. It is also possible to use the gym in the spa to do some workouts.
It is perfect for couples who want to spend time together and indulge in a more luxurious experience. Couples can enjoy their private spa session in one of the spa's two treatment rooms. The renowned Hotel des Arts Saigon is rated as one of the best hotels in the city. Take a trip to this luxurious spa with your loved ones. Take a dip in their outdoor pool on the hotel's rooftop, with fantastic city views!
Contact Details For Le Spa des Artistes Saigon
Massages In Saigon That Have Extras?
We know some of you naughty men will be looking through the list seeking out places that may, let's just say, massage all of your body! There is good news and bad news…The bad news is we are good girls *wink wink* at Kims Tavern Bar Saigon, so we can not talk about such naughty things here on our website. However, the good news is they exist, and we are sure you know how to do a quick google search.

But whatever you do, make sure you save some of that bull mood the next time you visit us.