Are you looking for a wild and exciting night out in Vietnam? With 0000's of restaurants & bars in Vietnam to choose from, it can be hard to decide where to go. But don't worry – I'm here to help! Let me guide you through the best bars in this vibrant country so you can have an unforgettable experience.
The bar scene in Vietnam is as diverse as its people. From traditional street-side shacks to ultra-modern nightclubs, there's something for everyone. In fact, according to recent reports, one in three adults aged 18-34 visits a bar at least once a month! That's right – Vietnamese people love their nightlife!
As you may already know, Kim's Tavern is the #1 choice as the best girl bar in Saigon But if you are wanting to explore some more of the thrilling social life of Vietnam, let me take you on a journey through some of the hottest and most popular bars around. Get ready for a night full of fun and excitement – but more importantly, get ready for freedom!
Saigon And Hanoi Bar Scenes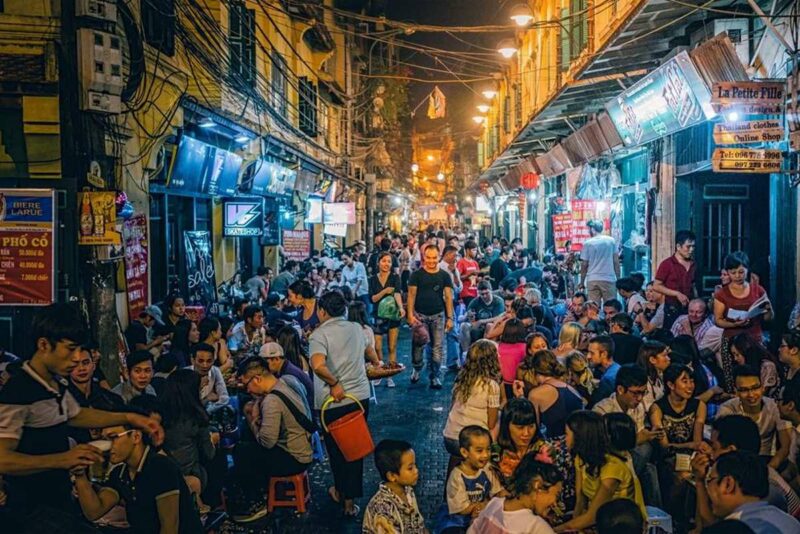 Ah, the nightlife in Vietnam! I'm always so excited to discover what hidden bars and vibrant cocktail lounges lie around every corner of Saigon and Hanoi. From traditional beer houses in Ho Chi Minh City to secret speakeasies tucked away in the alleyways of bustling Hanoi, you can get a taste of the bar culture here.
Whether you're looking for a place with great craft beers or delicious signature cocktails all made with local ingredients, there's something for everyone when it comes to discovering Saigon bars and the best bars in Ho Chi Minh City.
Rooftop Hot Spots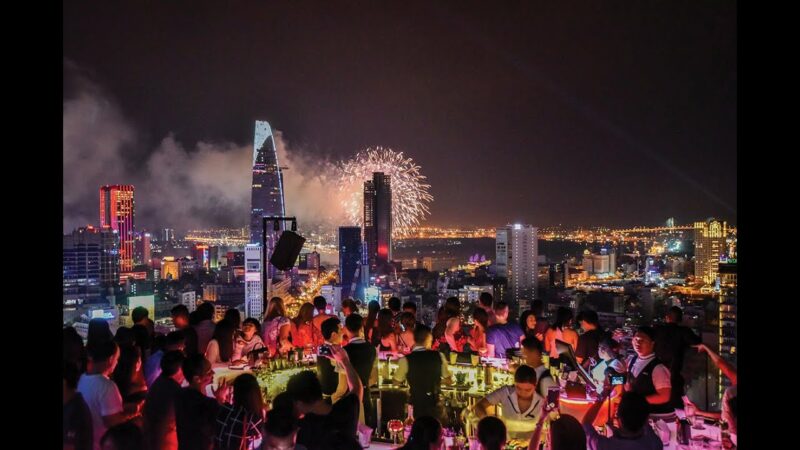 Now that you know the popular drinks in Vietnam, let us explore some of the country's best rooftop bars. From hidden gems tucked away on side streets to secret spots with stunning views, here are three amazing rooftop bar places to experience a night out in Vietnam:
Chill Sky Bar – Ho Chi Minh City: Located on the 26th floor of AB Tower in District 1, Chill Sky Bar offers stunning views of the city skyline, especially at night. The bar serves an extensive selection of cocktails and premium spirits, accompanied by live music performances and DJ sets.
Twilight Sky Bar – Hanoi: Situated on the 13th floor of the La Siesta Premium Hang Be Hotel, Twilight Sky Bar is a popular destination for both locals and tourists. With panoramic views of Hoan Kiem Lake and the surrounding Old Quarter, the bar serves a range of drinks and snacks, including Vietnamese-inspired cocktails.
Top of Hanoi – Hanoi: Located on the rooftop of Lotte Center Hanoi, Top of Hanoi is one of the highest rooftop bars in the city, offering breathtaking views of the skyline and landmarks such as the West Lake and Red River. The bar serves a variety of international and local beers, wines, and spirits, as well as fusion dishes and tapas-style bites.
No matter where you spend your evening, it's sure to be an unforgettable adventure filled with tasty drinks, beautiful sights, and great company. So why not make this your next destination for a wild night out?
Secretive Hidden Bars
Are you looking for a truly unique nightlife experience? Then look no further than the secretive, hidden bars! These local gems are perfect for solo travelers seeking an intimate, off-the-beaten-path atmosphere.
With their low lighting and discreet entrances, these bars provide an almost ideal place to hideaway from everyday life's hustle and bustle. Plus, they often offer some of the best traditional Vietnamese cocktails around.
The Alley – Ho Chi Minh City: Tucked away in an unassuming alley in District 1, The Alley is a hidden gem for cocktail lovers. The bar's entrance is marked only by a small sign, but inside, visitors are transported to a cozy and stylish space, complete with vintage decor and a unique menu of signature drinks.
The Back Room – Hanoi: Situated behind a nondescript storefront in the Old Quarter, The Back Room is a speakeasy-style bar that offers a secretive and intimate atmosphere. The bar serves a range of classic and creative cocktails, as well as a selection of craft beers and small bites.
1900 Le Theatre – Ho Chi Minh City: Located in an old French colonial building, 1900 Le Theatre is a hidden bar that pays homage to the city's history and culture. The bar is accessed through a narrow alleyway and features a vintage interior inspired by the golden age of Vietnamese theater. The menu offers a selection of craft cocktails and Vietnamese-inspired snacks.
If you want to explore more of what Vietnam's nightlife has to offer, why not try one of the Vietnamese Nightlife Tours? They'll take you to some of the most exclusive venues locals love – it's guaranteed an unforgettable evening! Now let's move on to beachside retreats…
Beachside Retreats
Ah, beachside retreats! From the hustle and bustle of city life to the tranquility of a stunning sunset view over turquoise waters. Imagine sipping on Vietnamese spirits or coffee cocktails while lounging in one of the best rooftop bars in Nha Trang or Saigon.
Picture yourself surrounded by friends, music, and dancing at a popular sports bar in Vietnam. There's no better way to end your night than with some top live bands and music venues that will surely have you swaying into the early morning hours.
Let's explore where these unique experiences can be found – it's time to get up close and personal with Vietnam's vibrant culture!
The Shack – Phu Quoc Island: Located on Long Beach, The Shack is a popular beach bar that offers a laid-back atmosphere, stunning ocean views, and a range of refreshing drinks and snacks. Visitors can lounge on sunbeds or beanbags, enjoy live music performances, and watch the sunset over the water.
Sailing Club – Nha Trang: Situated on Nha Trang Beach, Sailing Club is a vibrant beachfront bar and restaurant that attracts both locals and tourists. The bar serves an extensive selection of cocktails, wines, and beers, and features a lively atmosphere with DJ sets, fire shows, and beach parties.
Zephyr Sky Bar – Danang: Located on My Khe Beach, Zephyr Sky Bar is a rooftop bar that offers panoramic views of the ocean and the city skyline. The bar serves a range of cocktails and premium spirits, as well as Vietnamese-inspired cuisine. Visitors can enjoy the sea breeze and the beautiful scenery while sipping on their drinks.
Live Music Venues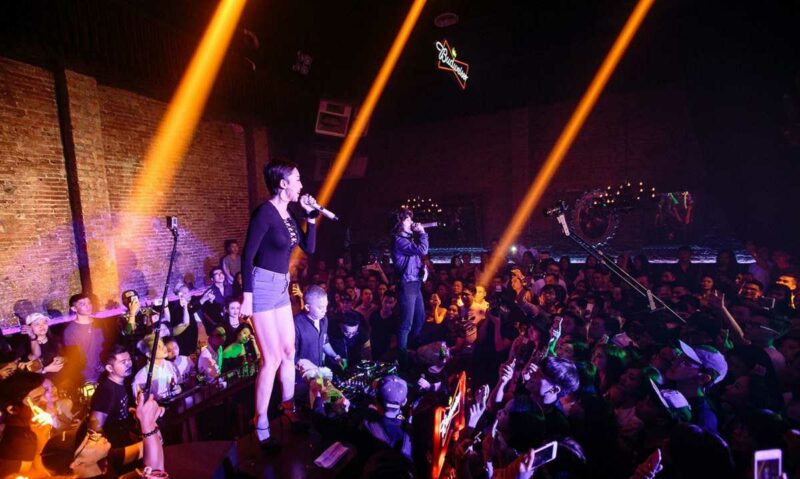 If you're looking for a night of live music in Vietnam, look no further than Hanoi, Da Nang, and Hue. All three cities have some of the best bars in all Vietnam that offer up great live bar and music experiences.
In Hanoi, there are plenty of karaoke bars to choose from and traditional Vietnamese venues offering everything from jazz to rock.
If you want something a little more laid back, head to one of the many beach bars in Da Nang or check out the lively pub scene in Hue. No matter what atmosphere you prefer, you'll find it in these amazing Vietnamese cities!
When it comes to drinks, Vietnam has an impressive array of options – from wine and beer to cocktails and spirits. So make sure your next night out is unforgettable with a trip down south – where fun-filled nights await!
Broma: Not a Bar – Ho Chi Minh City: Located in the heart of District 1, Broma is a live music bar that has become a popular destination for both locals and expats. The venue features a rooftop terrace and a stylish interior and hosts regular live music performances, ranging from jazz and blues to indie and rock.
Acoustic Bar – Hoi An: Situated in the charming town of Hoi An, Acoustic Bar is a lively venue that offers a unique atmosphere and a diverse music program. The bar features an outdoor stage and a spacious garden area, where visitors can enjoy live music shows, open mic nights, and jam sessions.
Rock Fan Club – Hanoi: For fans of rock music, Rock Fan Club is a must-visit destination in Hanoi. The bar showcases local and international rock bands and offers a fun and energetic atmosphere. The venue also features a pool table and a dance floor, making it a popular spot for a night out.
Happy Hour Specials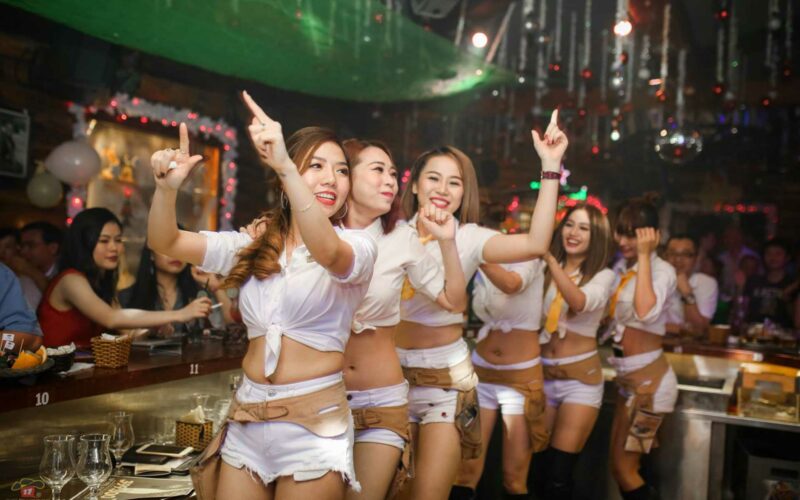 Freebies in Vietnam are like a siren song, luring you to the best bars and pubs for an unforgettable night out.
If you're looking for some of the best offers, look no further than bar-hopping through Ho Chi Minh City! From romantic waterfront spots with classic cocktails to traditional Vietnamese restaurants with snake wine on tap, there's something here to tantalize even the most adventurous taste buds.
And if craft cocktails are more your style, many bars also offer custom creations incorporating local flavors like honeydew melon or dragonfruit.
Whether it's drinks or food specials you're after, this city has them all – just make sure to come early to get the best deals! Now let's check out what surprises await us at Vietnam's craft breweries…
Craft Breweries
Ah, craft breweries – a great way to spend an evening out in Vietnam. If you're looking for something unique and flavorful, these are the best places to go! Here's my list of 4 must-try craft breweries:
Heart of Darkness Craft Brewery – Located in Ho Chi Minh City, this brewery takes its name from Joseph Conrad's novella about exploration into uncharted territory. They offer a variety of local beers with exotic flavors that will tantalize your taste buds.
BiaCraft Artisan Ales – Based in Hanoi, this is one of the most well-known craft ale spots in Vietnam. Their selection includes traditional European styles as well as some more innovative ones they've created themselves with locally-grown ingredients.
Pasteur Street Brewing Company – This Saigon-based brewery has been around since 2014 and specializes in Vietnamese-inspired beers like their Jasmine IPA or Passion Fruit Wheat Ale. It also doubles as a restaurant where you can grab some food while trying different brews on tap.
Fuzzy Logic Microbrewery – Founded by two Americans living abroad, this Hue microbrewery offers visitors an array of handcrafted ales brewed using local fruits and spices such as lemongrass and chili peppers. That wraps up my list of craft breweries worth checking out while visiting Vietnam! Next stop? Rice liquor culture – let's dive into understanding why it's so popular amongst locals!
Karaoke Lounges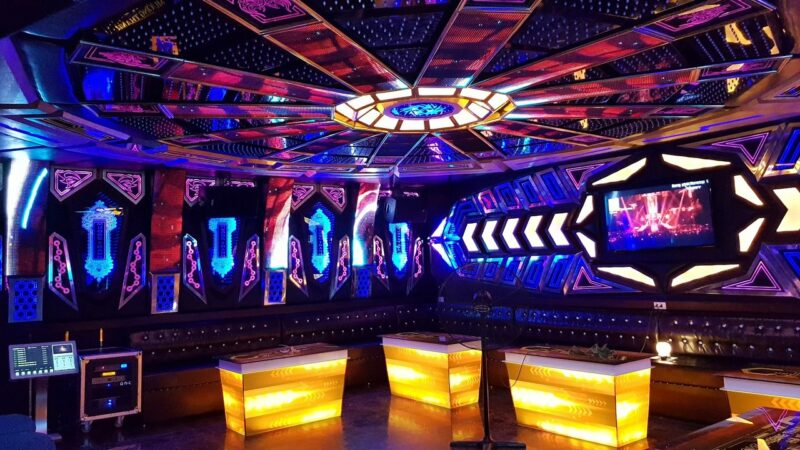 Ah, the karaoke lounge. It's a great way to enjoy some good company, chill, and make some memories that you'll never forget! From Hanoi to Ho Chi Minh City, there is no shortage of places where you can sing your heart out with friends or strangers alike.
Whether it's an intimate little spot hidden away from the hustle and bustle of city life or a full-blown nightclub experience – Vietnam has something for everyone who wants to have fun while singing their favorite tunes.
You might even find yourself trying out some Vietnamese classics as well! The best part about karaoke in Vietnam is that many spots offer drink deals and snacks, so be sure to ask what kind of food menu or of specials they may have available when you arrive. With all this in mind, let's move on to our next topic: snake wine experiences!
Karaoke Champion – Ho Chi Minh City: With several locations throughout the city, Karaoke Champion is a popular karaoke chain that offers private rooms equipped with state-of-the-art sound systems and a vast selection of songs in various languages. The chain also serves snacks and drinks, making it a great place to spend an evening with friends.
King Karaoke – Hanoi: Located in the bustling Old Quarter, King Karaoke is a spacious and modern karaoke lounge that offers comfortable rooms and an extensive song library. The lounge features multiple floors and VIP rooms for larger groups, as well as a restaurant that serves Vietnamese and international cuisine.
Gogi House Karaoke – Danang: Gogi House Karaoke is a trendy lounge that offers private rooms and a selection of Korean-style barbecue dishes. The lounge has a fun and lively atmosphere and features a range of songs in Korean, Vietnamese, and English, making it a great place for karaoke enthusiasts.
Nightlife Tours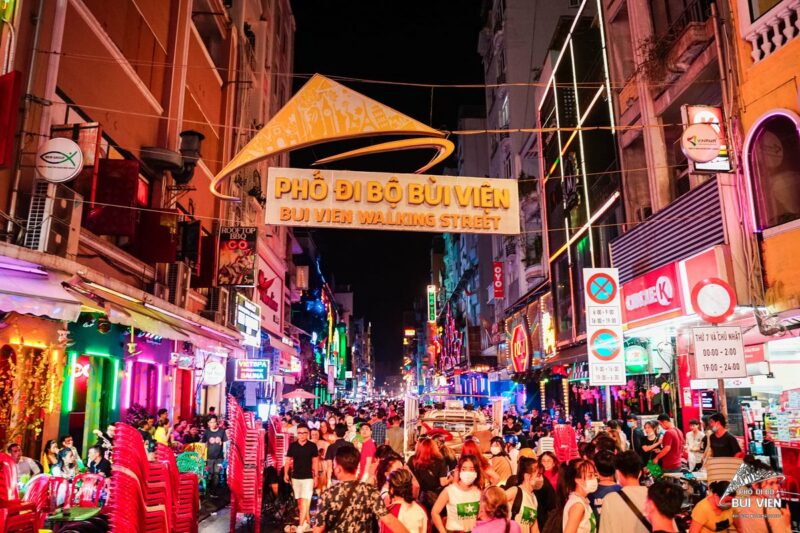 If you're looking to experience the nightlife of Vietnam, there are plenty of tours that can show you a great time. Here's what I suggest:
Take a Walking Tour: A guided walk through some of the best bars in the city is a fantastic way to get your feet wet in this vibrant scene!
Join a Pub Crawl: What better way to meet locals and enjoy different alcoholic beverages than on a pub crawl? It's sure to be a wild ride!
Visit Live Music Venues: With so many talented musicians playing every night, music venues are perfect for any party animal who loves good tunes and vibes.
Dance All Night Long: Let loose at one of the hottest nightclubs in town – it'll be an unforgettable evening filled with dancing, drinks, and fun!
No matter which tour you decide to take, you'll have an incredible time discovering new places and meeting interesting people. This is your chance to explore Vietnam like never before – so don't miss out! Now let's move on to romantic date locations…
Romantic Date Locations
If you're looking for a romantic date night in Vietnam, look no further. From the bustling city lights of Ho Chi Minh City to the tranquil beaches on Phu Quoc Island, there is something special for every couple. I'm here to help you find your perfect spot!
For starters, how about an intimate dinner overlooking the Saigon River? You can savor the flavors of French-Vietnamese fusion dishes and crafted cocktails while enjoying the stunning views from one of many rooftop restaurants located throughout Ho Chi Minh City.
Or if you prefer something more low-key and secluded, try having a picnic along Nha Trang Beach or at Halong Bay as the sun sets behind you. The possibilities are endless when it comes to finding that special place with your significant other.
No matter where your tastes take you, Vietnam has plenty of places sure to set the mood for a romantic evening. Whether it's walking hand-in-hand through the alleys of Old Town Hanoi or sipping cocktails under starry skies in Da Nang – whatever makes your hearts flutter will make this country just that much more cozy and magical.
So don't wait any longer; come explore all that Vietnam has to offer and start creating those treasured memories today!
Frequently Asked Questions
What Are The Opening And Closing Hours Of The Bars?
When it comes to bars in Vietnam, there is no one-size-fits-all answer, as each establishment has its own unique schedule. Some places may be open all day, while others will only stay open late night, until midnight or earlier.
It's always wise to check the opening hours ahead of time before heading out, so you don't miss out on any fun! Most bars tend to open around 6 pm and close around 2 am, but this varies depending on location and special events that could affect their operating hours.
Are There Any Dress Codes To Be Observed?
Oh, the dress codes! I'm sure you're wondering what to expect. Well, let me tell you, darling – it all depends on where you go. Some bars are pretty strict about their dress code and will not allow anyone inside if they don't meet their standards. But that doesn't mean that all places have a strict policy. You can find plenty of spots with quite a lot relaxed atmosphere where anything goes.
If you decide to hit the town for a night out, be sure to do your research ahead of time, so you know exactly what kind of clothing is appropriate at each bar or club. That way, you won't end up having an awkward encounter with bouncers who refuse to let you in because your outfit isn't quite right.
Plus, knowing the dress code beforehand gives you the opportunity to really show off your style and make sure everyone knows that you've come to party!
Are There Any Discounts Available?
Ah, discounts! Who doesn't love a good bargain? I'm all about getting the best value for my money. That's why I always research and look out for any deals before making purchases or going out on the town.
There may also be special promotions available at certain times of the all year round, like happy hours and two-for-one offers. It pays to check websites and social media channels regularly, as these can change quickly. And don't forget that loyalty cards may come in handy, too; many establishments reward their customers with benefits such as free alcoholic beverages or discounted entry fees.
Conclusion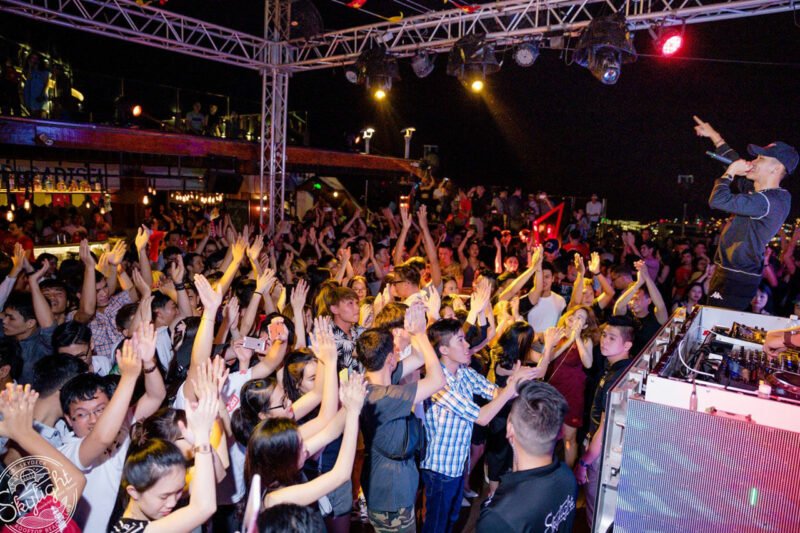 A night out in Vietnam. There is nothing quite like it! Whether you're looking for some good drinks, the perfect spot to chill and relax with friends over drinks, or searching for an exciting new place to dance away the night, there are plenty of bars that cater to all your needs.
So if you're ever in Vietnam, make sure you take advantage of its many vibrant bars. Even if you don't end up finding exactly what you were hoping for on your first attempt, trust me when I say – keep exploring! You never know which small bar just may become your favorite hangout spot.